Club News
We now meet at The Marylebone, 47 Welbeck Street, London, W1G 8DN on the second, third and fourth Mondays each month  at 12.30.  Please also see Events Calendar for meetings taking place elsewhere. Because of the Coronavirus situation face to face Club Meetings have been cancelled until further notice, and meeting will be via Zoom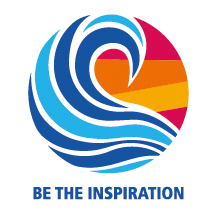 YOUTH SPEAKS - A DEBATE - 3 February 2020

On Monday 3 February, The Central Area Youth Speaks – a Debate was organised by John Bash, Central Area Youth Organiser from our Club at The American School in London in St John's Wood.  The American School has been hosting this event for many years and generously provided refreshments for everyone. Other Club Members helped in running the very successful event. 
 We had some 12 school teams involved, each with a team of three: a Proposer of a motion such as "This House believes that marijuana should be legalized" or "This House believes that keeping animals in zoos is wrong",  an Opposer arguing against the motion and a Chairperson.   The teams chose their own topics for debate.
 We had two competitions: for Seniors aged 14-17 and for Intermediates aged 11-13.  The Senior winner was The American School in London and runner-up St Marylebone CE School. The Intermediate winner was Francis Holland School and the runner-up St Marylebone CE School.
 All participants received a Certificate and also a Book Token kindly paid for by London District and presented by DG Tony Sharma. The winners and runners-up go forward to the District Competition on 22 February. 
 Everyone involved found it to be a very enjoyable event, helping to improve the speaking skills of the participants.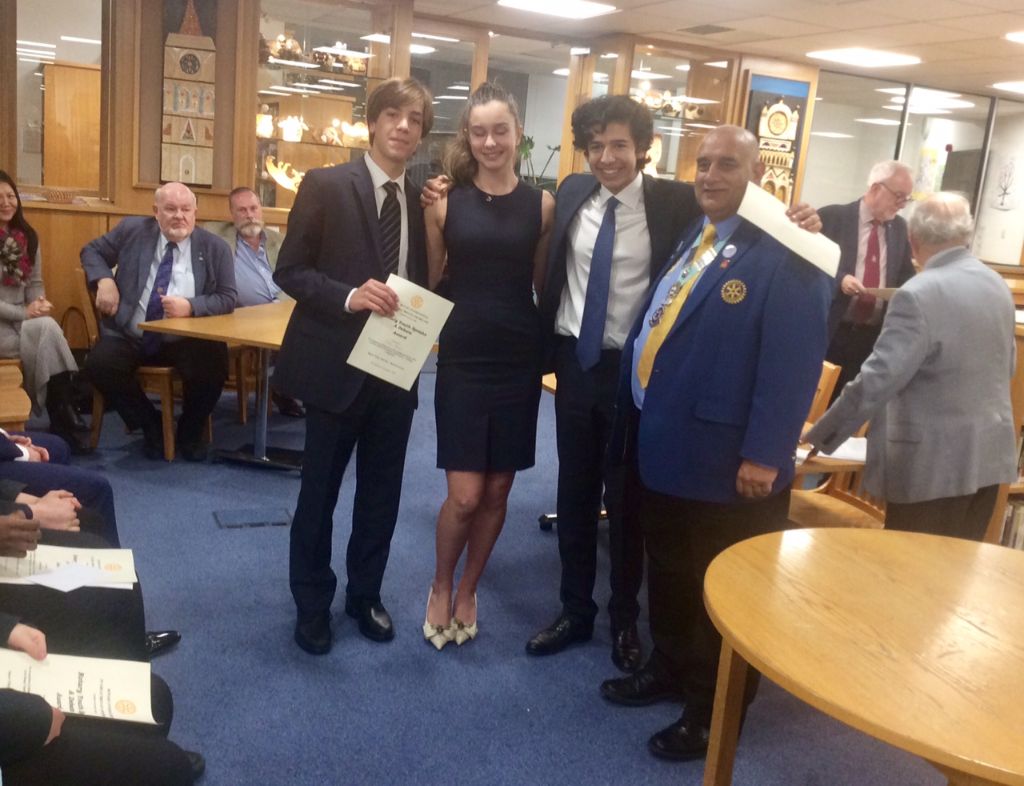 CHRISTMAS LUNCH - 9 DECEMBER 2019
20 members and guests attended an enjoyable Christmas Lunch at The Hyatt Regency Churchill Hotel preceded by a Champagne Reception, where the Fellowship was fantastic.  Besides the very good company, the food and service provided by the Hyatt, our Corporate Member, were excellent – thank you Danita..  We all had a marvelous time.
The lunch finished with the Festive Draw.  
At the last count the Festive Draw total was around £3,300 and counting.  There were some deposits direct to the Club's bank account which are not yet in the total.  No doubt Treasurer Noor will give us the total when he has reconciled everything.  It was not a record breaker as it was last year but still a very good effort with thanks again to all who contributed in whichever way you did. This will benefit our Charities.
President Dominic thanked Margaret Pollock for her brilliant organisation of the lunch under very difficult circumstances (forced change of venue at the last minute) and for the great table decorations and name cards after which everyone disbursed with smiles on their faces.
(See Picture Gallery)

PRESIDENT'S DINNER - 13 MAY 2019
The Club held a very successful and enjoyable President's Dinnerat the Marylebone in Welbeck Street. Highlights were the induction of two new members and the 'silent auction' of the Mortimer Raath Rotary Quilt made from the many Rotary ties that Tim had collected over the years. And also we had a fantastic poetic tribute to President Tom from Carole Harris.
TOM LESTER - My tribute
 There was a man in a Sou'wester
Who said 'I'm a doc, not a jester!'
 My real name is Tom, can you guess where I'm from?
 I assure you it isn't from Leicester!
 Dear Tom,
 It would be a crime to spend the time
 On a rhyme that I'm not happy with
 To acknowledge you and all you do. 
 These are the words I selected
 When expected to have reflected
 On the year you've been here as 'Head Boy', er … President
 The rest of the rhyme is about you
 Not to you (without talking through you)
 And I'll blow you a kiss if you don't take amiss
 That my words may not justly review you.
 He's a Rotarian of the highest degree, you all see
 He's brought friendship and goodwill - and does still
 He is warm, does not conform to the norm, but acts
 With dignity and pride, always on our side, always tried
 To do the best for all the rest,
 To forestall in big or small ways
 Problems that may arise, and advise.
 He's a man who is honest, who does what's promised
 Always acts with integrity and sincerity
 Full of passion in his own fashion, with no small ration of compassion either.
 He uses common sense - so, not so dense! Nor too intense that would give offence
 He means what he says, as befits a good President
 And is the voice of reason - at least for a season ...
 But there's more to Tom, more going on -
 He loves to ski, to feel free, flying down the white slope
 Looking through the snow, as through a window envelope 
 Or walking the Camino, pretending to be a Latino
 And craving a cappuccino!
 With his family dear - some of them here - and whether near or far, so lovely they all are
 And I've had the pleasure - at my leisure - to meet and greet them
 And I feel confident they well appreciate - though not THEIR president - this wonderful man.
 So,
 Tom Lester 
 Is not from Chester -
 And is not a jester.
 No, he's our President
 But not from Brent -
 From Temple Fortune 
 (Not Fortune Green, where I've been seen!)
 And now he's here
 It's been a year
 And come July, we'll have no fear
 Because it's true
 The next one who
 Will take his place
 We know his face. 
 He has an ace up his sleeve;
 And will not leave
 Until he's brought 
 The ones he ought
 To join our Club
 Not down the pub!
 He'll not be a sub 
 For Tom - He will be Dominic!
(See photos on the Picture Gallery)

PROSECCO LUNCH - 10 DECEMBER 2018
The Club held a reception and lunch for Members and friends at what was our last meeting in 2018. The main purpose was to draw the winningtickets of our Festive Draw.  The proceeds of the draw - £3,826 - will go to three of our supported charities:
Woman's Trust - addressing domestic abuse, StreetSmart - helping the Homeless and the Orion Orchestra – a unique training experience for young musicians.
The prizes were first class:
1.  – 2 Nights at the  Westbury Hotel Dublin
2.  – Dinner for 2 at The Royal Lancaster 'Nipa Thai Restaurant'
3.  - 2 Seats at The National Theatre
4. – Champagne Tea for 2 at 'Aqua Shard'
5 –  Champagne Tea for 2 at The Landmark
6 –  6 bottles of Tanner's White Burgundy 2016
 70th ANNIVERSARY DINNER - 12 NOVEMBER 2018
The Rotary Club of St Marylebone was founded 70 years ago when it had its Charter Night at the Savoy. Since then it has raised funds for the benefit of countless St Marylebone residents and communities across the world. 
The anniversary was celebrated by a formal dinner at The Marylebone. The Guest of Honour was Dr Paul Knapman the Deputy Lieutenant of the City of Westminster. We also welcomed  the head teachers of St Vincent's RC Primary School and St Marylebone CE School, Sally Field a trustee of the Woman's Trust, The Rector of St Marylebone Stephen Evans and the General Managers of the Marylebone and the Royal Lancaster. Both Hotels have been great supporters of the Club over the years and Garreth Walsh and Sally Beck were made honorary members during the evening. 
After dinner there were a number of presentations beginning with Testimonials from the four charities we support. Woman's Trust, StreetSmart, The Orion Orchestra and The David Nott foundation. The winning photograph from a competition organised at St Marylebone school was shown on a big screen and the winning story from a competition at St Vincent's School was read out. The subject for both competitions was " Marylebone".
The centre-piece of the evening was a summary of the history of the Club which had been written with the help of past and present members. The history is printed in the souvenir programme. The evening ended with a poem written especially for the occasion by our resident poet.
The evening was enjoyed by all and it was felt the Founders would have been impressed by the occasion and by the achievements of the Club over the years.
SPEAKER 22 OCTOBER
 Our speaker, Susanne Albrecht, is a medical doctor in radio-oncology and nuclear medicine, who spoke to us about her 'cookie with a vision'.
 Susanne, originally from Germany, moved to the UK six months ago, where she was now a Marylebone resident.  She was born in Nuremberg, grew up in Innsbruck, went to university in Vienna, and graduated from medical school there in the mid-1990s, when Austria was joining the EU.
  Susanne worked in Brussels for some time in a lobbying group for European doctors and then trained in Basle, Switzerland.  She spent most of her medical career in Geneva and Lausanne.  She trained in nuclear medicine and focused on early diagnosis on cancer relapse in research and practical work.  She wanted to do more clinics and did a second training in radiotherapy [ radiation in higher dose combining with chemotherapy and oncotherapy, ware that nutrition was a very important factor in the outcome of oncological treatment and this became the central focus in her work.
 Susanne came from an entrepreneurial family and went back to Nuremberg to take over management of the family business.  She admired the culture of the company and training level of the employees, and could relate to it because it was a network of clinical centres and they were providers - building up the centres, employing personnel, working with doctors, dealing with everything non-medical and working with the doctors.  She spent 10 years managing the company, but then the market changed, and she sold the company two years ago.
 She wanted to do something else and combine all the elements she had experienced.  She had heard about the Cordon Bleu school in London,the only one that offered a nutrition gastronomy and food training course.  The first three months were half chef training and half theory - sustainability, and nutrition values.  2018 is the year of promoting fibre intake, due to its preventive value in cardiovascular disease and bowel cancer.  Susanne developed a fibre rich cookie, low in sugar to complement the recommended daily dose of 20g of fibre.  Her idea was that nuts were a wonderful resource for fibre.  She took from her home a traditional cookie and converted it to a vegan version. 
 The original plan was to bring the product to market, but she decided she would like to bring it to a charity project instead, to unite with her passion for prevention in medicine and food sustainability.  She had heard of communal kitchens in London but was not familiar with London, and so wanted to 'enrol' into a charity system.  Susanne was familiar with Rotary from her parents, and herself had participated in a Rotary youth exchange.  She had read about our Club on the website wanted to see if we might be working with any health projects or community kitchens.
 Susanne told us that currently she was training in patisserie, the precision of which she found similar to working in a lab - and wanted to develop a health food line where each product had a medical purpose, e.g. cardio vascular - her aim is eventually to build up the business, but go into charity also.  She will be working on refining the fibre-rich product(s) with more knowledge of pastry.
SPEAKER 27 NOVEMBER
President Robert introduced Deborah Hall MBE who is the manager of Chigwell Riding Trust for Special Needs and a committed Rotarian who is going to be Club President for the third time. (Loughton, Buckhurst Hill and Chigwell. All 1 club!). Robert knows her in both capacities.
 Deborah started her talk by telling us that the trust catered for all ages and a range of physical and mental disabilities. It had at least 60 riders each week but there was a waiting list of 300.. She had 14 horses in her stables.
She was proud to be able show us the world premiere of a video which had been made about the Riding Trust.
 The film gave a very good picture of the training done in the school and the enjoyment and determination of the riders who obviously benefited psychologically and physically. They have competitions and prizes for encouragement. The trainer has been named Performance Coach of the Year. The success of the school depends on over a 100 volunteers to help with the riders.
 The activities shown were grooming, mounting with wheelchair access, trotting, exercises in the yard and a visit to the local nature reserve( which had no wheelchair access). The physical benefits are improved muscle tone, balance, co-ordination and development of the core muscles. This had led to some of her pupils being able to walk as the pelvic tilt while riding is the same as in walking. She had also had some riders who had started to say a few words after riding.  The therapeutic benefit is seen mainly in riders with cerebral palsy, muscular  dystrophy and brain tumours.
 She chooses her horses, who are the most important members of the team, by the shape of their eyes. They must have cow eyes rather than piggy eyes.
 Deborah decided to follow this career path after seeing her first session 36 years ago. She invited us to attend their Carol Concert at 3pm 3 Sunday December.
The address is Grange Farm, High Rd, Chigwell, Essex IG7 6DP  (02085006051).
 President Robert thanked Deborah for her talk and the chance to see the film. His visits to the stables were always enjoyable and inspiring.
SPEAKER 13 NOVEMBER

Tom Lester introduced our guest speaker Kat Pugh, the Head teacher of St  Marylebone CE School. Kat said that she was very pleased to speak to us. She never had a lunch break; at school there was a myriad of activities now taking place. both intellectual physical  . It was clear that the School was very active and engaged with the students..
 Kat talked about the publications the school produces.: there was a weekly Bulletin prepared by the students  and a very glossy St Marylebone Messenger, produced twice a year with articles by students.
 Kat told us the School was founded in 1791 , originally the Marylebone "Day School of Industry", to educate the children of the poor in the parish. The St Marylebone School was  a comprehensive school and was one of the first arts specialist schools. It focused on the visual and performing arts as well as doing extremely well in the Sciences and Maths. There were 1098 pupil with girls from 11-16 and the sixth form with both boys and girls. The School had an environment that supported students' accomplishments and high achievement, and there was a 'Praise Board' to recognise achievement, and this was supported by all students. There was a very culturally rich educational environment. They had a very high and varied number of speakers talking about their careers and the working world.
 Kat also spoke about the relationship with the Marylebone Hotels consortium, through the good offices of Margaret Pollock. The Hotel sponsored a fun raising event for the school last year which had raised £20,000 for the school.
 QuestionS ranged from the use of mobile phones to the various Rotary contacts and competitions engaged in by the School.
Tom thanked Kat for an inspirational talk.
SPEAKER 15 OCTOBER

David Piyyfieldwas born in Liberia, was in the military and has worked all over the world for the UN. Currently he was leading a project to rehabilitate the River Nile to help navigation. His title was " UN Peacekeeping: is it failing?". He. spoke about the UN Peacekeeping operations where there were some 13 missions costing  $7 to $8b. He wondered if eventually further peacekeeping would be needed in N Korea.
He showed us some slides showing how dangerous these operations can be for example the LRA in Sudan, whom he called "the bad guys". He took as an example the operation in The Democratic Republic of Congo and the second Congo war from 1998 to 2003; this was the deadliest war in modern African history involving 9 surrounding countries and 20 armed groups. There had been 5 million deaths and 2 million displaced persons.
 Peacekeeping began with a Security Council mandate, the idea being to secure Peace, Security, Stability and the Protection of Civilians..  The programmes involved the establishment of soldiers, police  and civilian staff..  But David maintained economics were ignored.  The new state was set up, there would be elections but then everyone leaves.
 The costs were enormous, in setting up camps for staff, provision of expensive trucks, large helicopters and monster planes.  However David maintained it had proved to be a "failure" as in the Democratic Republic of Congo, where the UN had been for some 50 years.  Although some good work had been done, the missions "eats" $1.1b a year , but hardly anything gets to the Congo.
 There were millions of unemployed young men – the police and the army were responsible for 20% of the rapes. There was no meaningful medical system.  If staff were ill, they were flown to Pretoria at great expense.  Things were not working and it was the same year after year. David referred to a quote attributed to Einstein "Insanity is doing the same thing over and over again and expecting different results."
  So what was the solution?  David suggested it was to halve the peacekeeping force and with the money saved to introduce 20 battalions of disciplined soldiers, allow money for infrastructure, thereby creating millions of jobs.  Then train a proper army and police and in 10 years the country could be up and running.
 One needed clean government, and should "follow the money".  There were 500 parliamentary seats but 19,000 candidates as the rewards were immense.  There was a "winner takes all" philosophy so that after an election there would be civil war. Aid should go to the service providers with an independent agency to oversee aid distribution.  At the moment young educated people get fed up and leave, and then don't come back.  A programme was needed to get these people to come back..
SPEAKER 9 OCTOBER
Margaret Pollock introduced the Director and a client from the Women's Trust who were our guests and speakers today. The Women's Trust is one of the charities that our club is supporting through our projects this year.The Director reported that the Charity was established 21 years ago to provide support and assistance to women who have been victims of domestic violence.
The Trust provides a safe environment to women who are recovering from the emotional and physical effects of this violence. The Charity provides one to one counselling and art therapy for children as well as the parent affected by abuse which includes physical, emotional, financial abuse as well as forced marriage and genital mutilation. The Director reported that one in four women will experience domestic violence and two women are killed every week as a result of this
violence.
The Director introduced the Client who read out her story of her experience as a victim of domestic violence. These actions rob the victims of their voices and it is difficult to find effective support. The Women's Trust offered her support when no one else understood
what she was going through. Through the Trust she received unconditional support, love and kindness as well as a safe place to work through her trauma.
There were a number of questions to our guests from members of the club including one asking about similar support services to men that suffer from the same type of violence. An organisation called GALLUP is available to men who suffer from domestic violence.
Margaret Pollock thanked the Director and Client of the Trust for their very effective andpersonal talk. It was very moving.
SPEAKER 25 SEPTEMBER
 Mike Hodge said he was delighted to be with us to say a few words – although he said it was unlikely that a DG ever said just a few words.  He last was at our Club some five of six years ago at the Sherlock Holmes Hotel. He gave us greetings from the Rotary Club of Barnet – the top Club in the District (is one looked at the map!).
 He was in San Diego in January to meet the President of RI who had a three point plan that was important to RI and also to RIBI and then to each Club. There were three pillars (which can also be a circle).  (PPP) Projects – Publicity – People which are linked. A Project might involve fundraising and handing over money – BUT Rotary is not a fundraising organisation, it must involve Service and we need Publicity. If cheques are just handed over, there is no Service, and the only people who know is the organisation receiving the cheque.
If you can identify what the organisation's needs, find out if we can buy it for them and hand it over at a ceremony, so it can be seen what Rotary has done. This can lead to more people knowing about Rotary, some of whom may join.
 The world has moved on since the start of Rotary.  Social media is important in getting the message out and regular posts are needed eg on Facebook, wjere one can 'shout' about our projects.
 Mike then spoke about Alzheimer's  disease and dementia and how 'Memory Cafes' can be so helpful for the sufferers and particularly their carers.  Clubs can look in their areas and see how we can help by volunteering or if there is not one close, starting a new one.
Mike acknowledged that the Club had been very active in the local community.
 Margaret Pollock thought that the PPP theme was very helpful. In our current Projects we had lead Rotarians involved for each. She said there several Memory Cafes in Westminster and she would find out where they were.
 David Leuw asked how they were set up. Mike said we should approach Bobby Segal The District Community Chair.  There was a need for a lead person and up to 4 volunteers.  Music can be a key element – evidently the part of the brain that deals with music is the last part to go.
 The President thanked Mike for really interesting talk.  Mike presented the President with a banner "Making a Difference".
SPEAKER 11 SEPTEMBER
President Robert introduced  Peter King Senior Immigration Judge whose talk -Human Rights and Public Wrongs – looked at the plight of migrants and asylum seekers. He first defined refugees as those who were in danger of persecution if they were to return to their home country, and migrants who left their home for other reasons such as drought, famine or from countries with no infrastructure who just wanted a better life.
There was now the Rohingyia issue with some 300,000  fleeing Burma. At present there were some 53 countries at war with some 75m internally displaced persons.  There were6m Syrians displaced either internally or outside the country.  There were 10m stateless people, for example the Bidoon people in Egypt.  In the last two years refugees and migrants have increased by 10m. Many countries were in 'free fall' for example the Congo, Chad, Libya  or Somalia, with no functioning government with corruption and chaos. Many were children. Most countries were ill-equipped to look after so many people; and the problems will increase.
Internal conflict made the problems worse eg in Nigeria Christians v Muslims, in Columbia the Government v the Farc.
One possible solution is to plough money into those countries, but there are problems with corruption and mismanagement.  
In Britain there has been a crisis in numbers: population in 2001 was 60m, in 2001 65m and it seems that soon it will be 79m, with the birth rate ahead of the death rate. This leads to infrastructure problems.
 Rotary can work with communities and NGOs to bring understanding between different groups.
 Fellows asked about possible solutions, but there was no easy answer.
SPEAKER 24 JULY
Francis Uwaechi, District International Chairman
Francis said that he was happy to return to our Club and to address us on a subject that excited him intensely and was his focus for the year. "Education' was the key subject for the future of the world - our collective future depends on it", he said. "Education opens doors and lasts for a lifetime; it is a right for everyone yet is impossible to recover if lost".
 Rotary invested a great deal in education in many countries around the world and yet this was insufficient even in tandem with the local national and other international efforts. For example, it was estimated that there were 250 million children in Africa who were unable to read, write or make basic calculations; in many Arab countries girls barely had an education whilst in Pakistan, it was estimated that 95% of women were uneducated. 
Rotary's education programme was based around its 'Education Box' - a package costing £20 sent to poor schools in distant countries, starting with Sri Lanka, distributed via local Rotary Clubs in the countries.
Francis commented that education standards in Britain were falling as a result of children using mobile phones and the internet increasingly to correspond and the acceptance in many schools of a falling standard of spoken and written English. He believed that it was time for this drop in standards to be halted.
In conclusion, Francis said, "I dream of a world where everyone can read, write and do sums." He called for a new general commitment to education." Members agreed with him!
To conclude his presentation, Francis charmed us in song that he had created. Will it make the hit parade? Probably not, he thought!
During questions, it was suggested that Francis should visit 3rd world countries to speak on this key subject. It was thought that the best approach would be through local universities. Investment in education should be a priority and must never be cut in the interest of 'saving money'.
Peter Schweiger had recently visited Costa Rica where a positive decision had been taken some years ago to close down the armed forces and to invest the 'saved' money in education, the police and computer chips. The result had been the country's economy benefited from large exports of computer parts.
Further, it was suggested that Rotary should have an education box designed specifically for girls in, say the Arab countries, as boys were already well provided for.
Vote of thanks: in proposing a vote of thanks David Leuw said that Francis was clearly a dedicated teacher and a lover of education. He also regretted that there were many homes in this country that are 'bookless'. His experience had shown 'education started at home.' Members agreed with this!
SPEAKER 25 MAY
John Bash introduced our guest speaker, Leslie Bash who spoke about " Religion and Secularity ". Leslie was introduced as a very learned person and had taught and done research over many years on education. He was currently Director of International Intercultural Studies at UCL.
Les began by saying he usually gave talks to educators and students that usually are from an International background. He began with a story of a Jewish man who was in Northern Ireland and was stopped by a paramilitary officer who asked " are you Catholic or Protestant?" to which he replied " neither, I am Jewish." He was then asked by the officer" are you a Catholic Jew or Protestant Jew". (A good way to begin the talk.)
Les gave a very comprehensive talk on the persistence of religion in the modern age. This included the strong role religion can play in modern society and discussed Jewish identity. He said that although there was great interchange between religion and secular experience there existed a conflict between religion and education. He described the move from creationism to what is now referred to as intelligent design. He said that religious philosopher Gita Sahgal considered secularity compatible with open and liberal societies.
 Les then reviewed the secular attitudes and State support for them in France and the UK and referred to Israel which identified itself as a religious state but treated the different religions within with a wide range of support from a lot to none at all. In Israel Jewish supremacy is taken for granted.
 Les also referred to the power of education and the impact information flows and population movement had had on the secular state. He said that secularity implied the breaking down of barriers and wass used as a prism through which we looked at the different ways of the worlds societies and cultures. On a positive note he said that never had there been a more opportune time for the coming together of secularity and religion.
There were some very good questions including one by John Bash about the USA that was supposed to be a secular country but who's leaders tended to have to identify with a particular religion in order to get elected.
 President Elect Robert Ghazi thanks our speaker for a very thought provoking talk.
SPEAKER 10 APRIL
John Wilson spoke about the American System of government, but without entering to the party political arena.
John took us back to the Founding Fathers after the American War of Independence who had to write a constitution with which all the individual States could agree. They had to be assured that no particular faction could force through policies against the interests of those States.  So a system of "checks and balances" was created to ensure a certain level of consensus, with power split between the three branches of government – Legislative, Executive and Judicial.
 All legislation must be passed in the same form by both Houses of Congress - the House of Representatives, with seats allocated on the basis of population, and the Senate where each State had two seats. The legislation then would go to the President who could veto it, but this veto could be overridden by a 2/3 majority vote in each house.
The Supreme Court could strike down any act of Congress by declaring it contrary to the Constitution. As an example it was the Supreme Court that declared that racial segregation was contrary to the Constitution.
 The success of this system really requires a certain amount of consensus between the parties, which has proved problematic in recent years.
 John the spoke about "Executive Orders" of which we had heard about recently. The President as head of the Executive had always the authority to create regulations and orders to implement the powers given to him under the Constitution. For example, acting as Commander in Chief, Lincoln freed to slaves under an executive order, and Truman ordered the racial integration of the armed forces in the 1940s.
 But in the last 20 years, with the cack of compromise in Congress, executive orders had been used more frequently.  The Supreme Court could strike down such orders.
 Questioned about the recent election where Mrs Clinton received some three million more votes that Mr Trump, John explained that this was down to the Electoral College who actually elected the President: each State had electoral votes depending on population, but for nearly all States it was a "winner takes all" situation. – somewhat similar to our "past the post" system.  There have been elections in the UK where the party with the majority of the votes did not have enough MPs to form the government.
After several more questions, which almost prevented John from finishing his lunch, John Bash thanked him for a very interesting and thought provoking talk.
 SPEAKER   3 APRIL
Vasi H-Daniel was introduced by our President. She had several degrees and had taught in schools in Japan, Delhi, Malaysia, Vienna, Ghana, Rome and
England. She came from a very international Rotary family; her husband was a diplomat and she had two grown up children. She had joined the Rotary Club of London in 2007 and had been President in 2013/14. Her passion and commitment had brought many new members to her club and had raised large amounts for polio eradication and other good causes.
The subject of her talk was the Commonwealth Countries League (CCL) and the Commonwealth Girls Education Fund (CGEF) for which she organised many fundraising events. Females in many countries did not have support from families to
educate them. It began with Alice Hummings who had been to Ceylon in 1925 and seen how many gifted girls were unable to continue their studies.
She set up a fund raising charity, the CGEF, and it had been going steadily on so that now it helped about 3,000 girls in Commonwealth countries in Asia, Africa, Caribbean and the Pacific. Head teachers of schools would nominate students and then candidates were selected and could receive funds not only for teaching, but also for uniform, books and equipment for up to five years. The outcome had been to produce teachers, accountants, lawyers, doctors, conservation managers and many more skilled people.
The Motto of the organisation was: Educate, Empower, Commitment to community,and Life Changing.
 John Bash asked how students were monitored. Margaret Pollock asked if there were links with other charities? No they seem to be autonomous. Another concern was female circumcision which was a tradition but that was also a taboo subject and hard to stop.
All the funds were raised by volunteers. President Peter thanked Vasi for an inspiring talk.
SPEAKER 30 JANUARY
The President said that he was honoured to introduce our speaker The Lord Mayor of Westminster Steve Summers.
The youthful looking Lord Mayor began by saying he had missed being the youngest ever mayor by 2 months.. He has been a Westminster councillor for 11 years. He was originally from Newcastle and had left his football allegiance there. Otherwise he
is fully committed to Westminster and had served in a number of capacities including 2012 leader.
Westminster council had 60 members who elected a mayor annually and the new mayor took the regalia from his predecessor immediately.  The first major engagement was the Civic Service at Westminster Abbey to which 1500  people were invited. HMS Westminster formed a guard of honour.  He had kept up his connection this ship though  it would not be coming to the Thames in the near future.
His main aim was to encourage those people who were helping to make  Westminster a better place to live. He thanked our club for their contribution.
One of his offices was as Deputy High Steward of Westminster Abbey  and to his surprise he really enjoyed the fact that he visited the Abbey at least once a week. On one procession he was somewhere between the Prime Minister and the Queen.
He also had the privilege of contacts with the many embassies in the area. This had led to contacts with other Mayors and Councils.  It was his job to go to Oslo to collect the Christmas tree for Trafalgar Square.
His role was an honour and a privilege and he looked forward to every day.
In answer to questions we learnt:
-he couldn't take home his chain of office. 
- Queen Elizabeth 1st had banned there being a Lord Mayor of Westminster because she feared the city would become too  powerful, like the City of London. This statute stood until 1900 when the first mayor was appointed.  The first Lord Mayor was appointed in 1965 when London was reorganised and City status given. 
- the effect of Sport on deprived and disaffected youngsters through Greenhouse  Sports had astounded him and he urged everyone to support it.
- The Simon Milton charity of last year's  Lord Mayor  was  on schedule to open The Westminster University  Technical Collegel in September.
President Peter presented the Lord Mayor with a cheque for his favourite charity Greenhouse Sports
SPEAKER 23 JANUARY

Robert Ghazi introduced Di King who has been involved in several different Youth Exchange Schemes for the London District over the last 10 years. She explained that the requirements of young people and of Rotary change rapidly over time and a number of schemes had been discarded. The latest scheme which she was promoting was called New Generation Service Exchange. This was for 18-30 year olds and could have International, Cultural and Service components but was not a work experience scheme. The idea is that the young people use and develop their own skills to help other people largely at their own expense.
 The driving factors in assessing the projects and the candidates were the six areas of focus of Rotary. Individuals or groups could apply and a connection with another club could be beneficial. .
 Di  explained that she acted as a liaison between clubs who had a project for which they needed manpower and young people wanting to volunteer their time. She encouraged our club to consider a project in our community which would be suitable for such motivated young people..
 In answer to questions she would be happy to work directly with our club. Examples of suitable projects were on the RIBI website.
SPEAKER 9 JANUARY 2017
 Past DG David Palmer spoke about the Rotary Club of Mayfair, which was finally chartered as of 1 January.  The route to that had been difficult: members had come and also left because of the length of time it had taken.  They now had 33 named as charter members of the Club.  Our Club were the sponsoring club and we should continue giving support that we had up to now.  Neville Brick had been most enthusiastic about seeing the new Club in and had done a lot of work to that end - also Keith Stuart-Smith.  A sponsoring Club is expected to act as a mentor to the new Club for some time.  There would only be a few members who had Rotary experience, so the mentoring was important.  David had been involved in mentoring the Roding Club for more than a year.  Without a proper structure, not much would happen.  There was no structure yet in the Mayfair Club.  The new president only had a few months to get everything in place - if all went smoothly, come the 1st of July, with our help and various Rotary speakers, they could be in a position to move forward fairly seamlessly, but they would need our backup.  Things were not all smooth so far in the Club.  New President Elect Andrey had been a dynamo  and had put together a lot of the structure.  They had many fine people of a younger age group - good quality professionals anxious to get involved.  There was no reason that we could not be proud of this Club. 
David said he was really proud to have new club in this District - the last one was about 5 years ago but were very insular. and did not allow mentoring to take good effect - that Club eventually faded away and died.
 The Club were currently meeting at 12 Hay Hill – off Barclay Square on Monday evenings -  7.30 for 8.00.
SPEAKER 30 DECEMBER
Kenny D'Cruz, known as "The Man Whisperer", started by reminding us that the biggest killer of men under 45 was suicide.  He told us that one great problem is that generally men do not speak about their problems.  He played a video showing men with problems: over 40% of men suffered in silence, never sharing their feelings.

Kenny helps men meet personal goals, at work and in their personal relationships  through individual consultations and men's groups, in London and online: for some men online was easier as they did not have to meet face to face. Kenny said he could help men get unstuck and bring their best self to meet all of life's challenges.  Other statistic he gave us were that some 86% of rough sleepers were men and there were 13 male suicides a day.
The important thing was for men to have the courage to talk about problems.
 Lee Walton then spoke saying that he had benefitted from working with Kenny.  He had had a serious cancer problem and had undergone a 23 hour operation to remove the roof of his palate and replace it using skin and bone from his leg. He had received the most fantastic care from the NHS.  He was a pianist, and we saw a video where he was playing with a violinist one of his own compositions- (it was soothing and very beautiful – ed.).  10% of the profits of the album were going to the NHS Trust at Guys.
 Lee's music can be heard on http://www.leemichaelwalton.com/

-----------------------------------------------------------------------------------------------------------------
On Monday 12 December iur Immediate Past President Neville Brick suddenly passed away.
Robert Rosenthal  expressed the Club's feeling in a tribute to Neville:
Neville was a very fine Rotarian, and contributed greatly to the running of the club and had the rare honour of serving twice as President of the Rotary Club of St Marylebone.
 For several years Neville was also an important member of our Rotary Quiz Team, and he always seemed to enjoy himself with the fellowship and chance to show his considerable general knowledge.
 We shall miss Neville's warmth, compassion, fierce intellect, knowledge, wise counsel, humour and sense of mischief, humility, and many other great attributes that he possessed in abundance.
 I am sure that the Rotary Club of St Marylebone would wish to recognise Neville's major contribution to our Club in an appropriate and enduring way.
                                        NEVILLE BRICK
----------------------------------------------------------------------------------------------------------------
CONCERT 20 NOVEMBER - see Picture Gallery
John Bash reported on a very successful concert on Sunday 20 November where we had raised some £2000 for the St John Hospice.
The performers taking part in the concert were:
                    * The A Sharp Trio: an excellent sibling  string trio
                    * Sam Hayward: an international concert pianist
                    * Cody Lee: The 'boogie boy' well known to Rotary audiences
                    * Nathan Penniington: a poet, writer, live literature producer and magician
    "You saw it here first" - Nathan's Rubik's Cube trick was repeated on Sunday evening on the ITV  Sunday evening programme "The Next
Great Magician".

SPEAKER 13 OCTOBER
Our Assistant Governor Brian Coleman talked about his life in London Government. He explained the role of the Mayor of London whom he said was the most powerful directly elected politician in the country. The Mayor (not be confused with the Lord Mayor of the City) dealt with strategic issues (planning, Housing and Economic Development), the Metropolitan Police, Fire and transport for London. Major planning matters such as the development of the Battersea Power Station were dealt with by the Mayor.
Brian had been a Councillor for the London Borough of Barnet, a London Assembly for 12 years as member for Barnet and Camden. On the Assembly he had specialised in Fire matters and had been Chairman and Leader of the London Fire and Emergency Planning Authority for four years.
Brian then regaled us with tales about HMQ's great interest in those who were appointed under Royal Warrant and sad stories of those caught up in the riots in 2011.
Brian said he had got on well with Ken Livingstone (despite  political differences) and thought he handled the aftermath of the 7/7 bombings 2005 with dignity.
Brian had enjoyed his time "serving the people" and had good wishes for the new Mayor, Sadiq Khan.
In answering questions Brian said that the most divisive issue was social housing.
SPEAKER 6 OCTOBER 2016
 Speaker
Dr. Himansu Basu, PDG and Medical Director for Rotarian Action Group on Population Development gave a talk on " Stop Mothers Dying" an award winning model called "CALMED"
 Dr. Basu talked about the silent tragedy that currently existed in India where there were 1000 maternal deaths every week. The total number of infant deaths in one year was 1.5 million.
The lifetime risk of childbirth mortality in Great Britain was 1 in 5900 compared to 1 in 220 in India.Dr. Basu told a moving and sad story called " A Mothers Anguish" which was a scenario of the process of a difficult pregnancy that resulted in the death of the mother.
Solutions:
 1. We must accept that the mother was the most important person
2. TRF- the most important charity was Rotary Foundation
Power of Rotary
1. Collaboration- global, national
2. Partnership- government, professional groups, communities, rotary
3. Ability to work with and empower others
Dr Basu took us through "CALMED"
C.  Collaborative
A.  Actions in
L.  Lowering of
M. Maternity
E. Encounters
D. Death
He spoke about women's groups dealing with birth preparedness like ASHA and MDSR, maternal death surveillance response. He said we needed commitment, training and monitoring in a no blame culture. The mission was to have zero preventable maternal deaths
 Their sponsors were TRF ( Rotary Foundation)
  Training the Trainers
2)    VTT plus raises childbirth preparedness
3)    Advocacy- Rotarians, master trainers
Recognition of CALMED:
 They had received the 2016 Times Steinberg Award and the RI Champions of Change Award
 SPEAKER 29 SEPTEMBER 2016
District Secretary Dick Nathan told us about his trip to Seoul in South Korea for the RI Convention in June 2106.
Following a 12 hour flight to Seoul, he knew he had to take a train to get to his hotel, but all the signs were in Korean. Luckily there was a Korean AG at the airport who directed him to the station. At the station there were 12 exits, all with signs in Korean.  Eventually he arrived at the hotel and found all the facilities including the bathroom were controlled by a complicated panel- with symbols but no English explanation.
He found that food was very different. Every meal began with Kimchi – pickled cabbage. However meals were cheap and spicy – an expensive meal for two with wine cane to £20 to £24., but a basic meal cost just £10 to £12 for two.  There were some 100 restaurants close to the hotel. He then referred to the convention centre which was vast so that he was some 200 metres from the stage. He showed us slides of the Registration room – about the size of a football pitch,- and of the House of Friendship that seemed to go on forever. On registration they received a number – those with 'lucky'  numbers received a free  tablet - Dick was lucky. Some 44,000 had registered for the Convention
There were great speakers beginning with Ban Ki-moon and then Prime Ministers of S Korea and Sri Lanka.  Rotary Foundation was 100 years old and the target this year was to raise $300m. This seemed almost unattainable until it was pointed out that last year the figure achieved was $269m.
Seoul had opened its Metro in 1977 to replace trams and trolley buses , because of traffic congestion. There were 20 lines which were straight and very deep. Deep -  because they were built as shelters because of tension with their northern. All stations and trains had Wi-Fi. The trains were crowded but when he entered people stood up as there were 6-8 seats in a carriage and these were reserved for the elderly.
Kevin Coyne asked if he felt there was tension in the air. Dick said that he picked up  a vibe but this was about people being very busy. People were very aware of their neighbours after an attempted invasion in the 1950s.  People would talk to him and he learned that it was best to talk to tall people. This was because it was only recently that their diet had improved and the younger people (who had learned English at school instead of Chinese) was taller than previous generations.
Dick found it was a wonderful occasion with great benefits to Rotary especially as to the high regard in which  international leaders held the organisation
SPEAKERS 22 SEPTEMBER 2016
We were privileged to host at lunch two severely injured former soldiers. They were both in their mid 20s and had been permanently disabled during their first period of action in Afghanistan.
Martyn Compton left school at the age of 16 in 2006 with the ambition to join the army. His regiment was the Household Cavalry and was posted to serve in small tanks - not on horse back. In Afghanistan he was on a mission to support some Danish troops when his tank was attacked when  approaching a village on a hill; the tank 'exploded' killing the other occupants and he needed to extricate himself from the rubble and to run 100 metres to some shelter - but he was shot by the Taliban before reaching the shelter and suffered 75% burns.
Martyn 'died' three times before reaching hospital in England and required two years' hospital treatment before he was mended as much as possible after 500 hours of surgery. His girl friend, whom he met before he went on mission, was now his wife.
 Mark Allen also joined the army straight from school at the age of 17 and went on mission to Afghanistan following 18 months training. He was severely wounded in action and lost 2 fingers and both legs. He was discharged from the army at the age of 19.
 Martyn and Mark met in the UK following their respective hospital treatments. They were both in a similar predicament; they had similar experiences  and could talk about them but they needed something more. They chose to go in for Go Karting -yes, Go Karting - and they have made careers in this sport as a team, for the last 5 years. Their ambitions do not stay with these 'little' cars. They have plans to take part in the Le Mans 24 hours race in 2018, in specially modified cars with total hands control. Perhaps they will achieve world records in the larger cars also!
In response to questions the former soldiers commented that they received pensions from the army but did not get any support otherwise; they needed  sponsorship money to continue with their activities. They are an inspiration to the rest of us, as were the Paralympic athletes, to see how such adversity could be overcome.
SPEAKER 18 AUGUST 2016
Douglas Higgins, Chief of Field Office, UNICEF Lahore, Pakistan, began his presentation with a chronological history of polio and polio eradication, starting in the early 20th century, when it was a much-feared disease, paralysing hundreds of thousands of children each year. 
In the 1950s and 60s, an effective vaccine was introduced.  This brought polio under control and practically eliminated it as a public health problem in the industrialised countries.  In the 1970s it was realised that polio was a significant problem in developing countries.  
In 1988 the Global Polio Eradication Initiative (GPEI) was initiated.  At that time, more than 1,000 children worldwide were becoming paralysed everyday.
 Since 1988:
 *   More than 2.5 billion children have been immunised against polio
More than 200 countries have been engaged in GPEI
*   More than 20 million volunteers have been involved
*   There has been an international investment of more than USD11 billion
 in 2016, polio cases have decreased by 99 per cent.  There are only three countries that have never stopped polio transmission: 
Country

No cases

in 2015

No cases

in 2016

No Cases at

this time last year

Afghanistan
20
6
7
Pakistan
54
16
29
Nigeria
0
2
 
 In Afghanistan and Pakistan, there are three main virus reservoir areas, i.e. the geographic areas where the virus persists.  From these three areas it continues to other high-risk districts or provinces within Afghanistan and Pakistan - and internationally.

Understanding the social dynamics of Afghanistan and Pakistan is fundamentally important for ensuring that polio eradication initiatives are appropriately designed and implemented.  Models that were used successfully in India and Nigeria had been applied to Pakistan and Afghanistan.  In recent years it was realised that there needed to be tailor-made approaches to polio eradication in Pakistan and Afghanistan. 
 In 2014, Harvard University was engaged to do a detailed field research to understand knowledge, attitudes and practices with regard to polio and immunisation.  Previously, it had been thought that religious leaders and community leaders had the most significant influence on whether parents/care givers would allow their children to be vaccinated or not.  One of the key findings from the Harvard study was understanding that community health workers are actually more trusted when it comes to information about polio.  This has supported a shift in emphasis in GPEI in both Afghanistan and Pakistan.
 Another issue that required a paradigm shift in GPEI implementation in Pakistan and Afghanistan was realising that missed children were a far greater concern than parents/care givers refusing to allow their children to be vaccinated.  In Nigeria and India, refusals had been a huge problem and required a focused attention, and therefore the Nigeria and India models were imposed on Pakistan and Afghanistan, on the assumption that the situations were similar.  Data consistently revealed that refusals were a very small percentage comparedwith the children simply being missed out during the vaccination campaigns. 
 Of the many issues that the Harvard study revealed, another related to understanding better which are the most trusted information sources about polio..  Previously, the polio programme had invested huge amounts of money in posters and leaflets, television slots, etc. and also radio.  What had not been understood was the significance of radio broadcasts when it comes to trusting information about polio. 

In 2014, negotiations began with the BBC - and particularly the BBC Pashtu service - to design a comprehensive programme for using radios to convey public education broadcasts on polio and health issues in Afghanistan.  This was to be done using weekly radio shows; integrating polio themes into an existing radio soap opera; hosting radio debates with leading health authorities; and training reporters to cover polio appropriately in local FM radio stations.
 Initiated in 2015, the contract with the BBC will continue until end 2017, at a total cost of approximately USD1.3 million.  From the outset, Rotary has been a strong supporter of this, and funded between USD800,000 and USD900,000 of the contract.
SPEAKER 29 JULY 2016
Romi Bose from the NHS started by saying that 15 hours would not be enough - let along 15 minutes - to cover her subject, but she would do her best!  She distributed a leaflet setting out the NHS values and an 'organigram' of the Department of Health to give an overview of the setup, which is quite complex.
 Romi explained that she got into the NHS by chance.  Her father had been a GP in Redbridge, and she became his Saturday receptionist.  When the Practice Manager fell sick, Romi fell into the job, taking the required courses for it, while still studying computer science at university.  She took management degrees and then worked for a primary care trust.
 Romi currently worked for the West London Clinical Commissioning Group (CCG) - covering Kensington and Chelsea, and Queens Park and Paddington.  CCGs were set up all over the country, and they decided what services should be provided for the population of that area.  Romi looked after their GP practices to make sure GP services were providing what was needed to their patients.
Kensington and Chelsea was unique in the country as a rich borough, but with massive pockets of deprivation. The work had to be flexible: some GPs did not respond to emails, and only communicated by phone.  Part of Romi's remit was communication with different people at different levels, to facilitate their being able provide their patients' needs. 
Romi explained the complicated nature of the NHS. GP practices sat in the health care services section, with GP services in the primary care sub-section of this.  The CCGs covered all boroughs to see what was needed, but the actual GP practices could only see within their own patient population and demographic.
Specialised services, offender healthcare and healthcare for the armed forces also fell under the healthcare services.
 All sections under DoH had a monitoring setup.  The Health watch group (Healthwatch England) was the organisation set up to deal with patient complaints and concerns - if you had issues with health services - GP or hospitals - they would speak for you.  They looked after community hospitals and acute trusts and monitored the level of service provided and patient experiences.
 Most practices had had a Care Quality Commission (CQC) visit.  Anyone can check on the practice to see how your practice had been rated by the regulator.  If the CQC felt the practice fell below required standards, they gave recommendations in order to help and improve the practice.  They would then review it at a later date.  CQC had the ability to shut a practice down.
 The NHS values formed part of the NHS Constitution:
            Working together for patients
            Compassion
            Commitment to quality of care      
            Respect and dignity
            Improving lives
            Everyone counts
The NHS was a huge organisation - the third largest employer in the world, after the Chinese Red Army and McDonalds - and every person in the NHS person should follow these values.  We should feel free to remind GP clinics about NHS values if we felt we were not being treated satisfactorily, e.g. having to wait an unreasonable length of time for appointments. .
Romi then responded to many questions and comments ranging from suggestions that we should 'get back to basics' and make a better system, the payment of GPs, to the lack of services for mental health, drug and alcohol abuse. One problem seemed to be that much of the complexity had been caused by changes in leadership.
SPEAKER 26 MAY
Hamish Brown began his career in the police force as a constable but climbed the ranks to become a Detective Inspector in the Metropolitan Police specialising  in STALKING and HARASSMENT. On retirement, he set up his own consultancy as an international authority on stalking and harassment.
He said that we normally thought of 'stalking' being the prerogative of celebrities but, in practice, it was 'ordinary' people who were most frequently stalked. Hamish gave the example of a college teenager who had a series of 64 stickers put on her car over a period of time. The first sticker was innocuous "I am watching you"; the second "I am still watching you"; the next "I want to meet you. You cannot escape". Eventually, the messages on the stickers became very objectionable and had a damaging effect on the 'victim'. Eventually, the stalker was caught with the police playing a game of 'cat and mouse'. He turned out to be a young man.Hamish needed to identify the crime that had been committed. He could have gone for anti social behaviour that would have handled in a Magistrate's Court and could have resulted in just  a £50 fine. Instead, he went for a grievous bodily harm  - psychological harm -proven with doctors' reports. This that was considered in a Crown Court and resulted in a prison sentence of 4½  years.
Hamish went on to speak of stalking as practiced by former partners who retained the keys to the couple's former home. The stalker in this case would enter the property and leave a small 'change'  eg moving fridge magnets, that would play on the partner's mind when repeated several times. Alternatively, he spoke of regular and repeated telephone calls that would worry the victims.
Hamish offered advice: Change the locks on doors to prevent entry; avoid leaving private information on social networks that too often provide a wealth of 'blackmail data' to stalkers such as dates of holidays.
We then had lunch and after, in the answer to questions, Hamish said there was no information on how long stalked people waited/survived before reporting a case to the police; he advised avoiding social network sites and reporting regular/repeated phone calls.
President Neville offered thanks to the speaker on behalf of the members and guests present.
SPEAKER 5 MAY
 Noordin introduced his niece Shezmin  Madhani who told us about the Charity she had founded some seven years ago, the Nia's C.hildren's Foundation, in Kenya.
 At the age of 21 she went to Kenya for a holiday for three months, and spent some time in the slums. She found a small makeshift school and volunteered her time. She found that there was a correlation between school attendance and the provision of food there. Parents have a struggle as there is no state support. She decided to help provide meals in schools, which increased the numbers of pupils. She supplied food not money as this prevents corruption.  She worked with local supermarkets paying for the supply and delivery of food to the school.
She has a chap on the ground from the Rotary Club of Nairobi who checks. Shezmin receives a monthly report about the kids attending and she is on the School Board. As wells as the food she supplied furniture, books stationary and cooking materials. For £1400 a month she could provide breakfast and lunch for 420 children.She supplied several schools.
Shezmin told us that some Charities were not clear about where the money goes, but 97%of her funds were spent on the children. They had no paid staff and the work is done by volunteers.
On future plans, she wanted to support more schools, but she wished to create a 'pot' of money the next 2-3 years so that if she had to do other things in her life, the work could continue. She hopes to be able to invest in agriculture to that the Foundation can be self-supporting.
The word 'Nia' means 'life's purpose'.  She was passionate bout the Foundation. Life had been good to her and she wanted to give something back.
After lunch Shezmin answered many questions. On raising money, she said that originally there were events such as skydiving or walks.  Now she has no time to organise these, so she gives talks to corporate, ans she has money raising scheme with a restaurant. The Foundation was supported by two Clubs in Nairobi and one in Mombasa.
President Neville proposed the Vote of Thanks for an inspiring presentation.
VISIT OF LORD MAYOR OF WESTMINSTER 28 APRIL
The Lady Flight was wearing the Marylebone chain of office when in her unassuming manner she spoke to us. She had been a councillor for 10 years before she had become Lord Mayor. On entering office last May, the government had asked local councils to make large cuts in their budgets. She was the last of 10 councillors asked for suggestions and her proposal was to use the Sir Simon Milton Foundation to replace a cut. It had two elements.
 One to help the elderly by having Silver Sundays on the first Sunday in October. Those who were isolated in their homes would be invited to parties or boat trips to give them a change. The Lady Flight also encouraged crèches to be in old people's homes, thereby helping working mothers and giving old people contact with toddlers. This scheme linked in with Silver Line, set up by Ester Ranzen on the same day in October, to give older people someone to chat to on the phone.
The other element of the foundation was to help 14+  year olds who were bored with conventional education to an alternative to be apprenticed as engineers. Lady Flight found a site for a new academy on Ebury Bridge Road, as a University Technical College (and she had just laid the foundation stone before coming to our lunch). This college was to train and inspire a new generation of engineers, technicians and business leaders for transport engineering and construction jobs.  She referred to Sir Simon Milton who had been leader of the Westminster City Council, and who sadly had died at a young age.  There were many statues of him in the City – more than of the Duke of Wellington.
Our salmon fish cake lunch was served and then there were many questions. We learnt that there was an engineering academy in Birmingham and students were given tablets to work on when they arrived in the morning which were handed back when they left. That ensured that they had no outside help with their work and helped them focus. She felt that only one in ten students had that aptitude and enjoyed the more practical side of learning. The Lord Mayor than showed tow videos -  one about Silver Sunday and the other on Engineering Academies.
Eve Conway offered to co-operate with the Foundation because there were similar schemes being run by Rotary.  The Lady Flight was asked how many other technical academies there were in Britain. Answer about 24 but soon to double.
We also learnt that about 80,000 children in the UK were home taught, which surprised many. Questions also ranged about business hubs where young entrepreneurs could meet each other and the London Coliseum built without "Gods" because the founder was not considered grand enough by other theatre owners.
David Leuw proposed the Vote of Thanks, and President Neville presented the Lord Mayor with a cheque for the Sir Simon Milton Foundation.
MUSICAL TEA 20 APRIL 2016
About 36 people attended the event in the conservatory at the home of Barbara and John Bash on Sunday 20 March.  This was a great success with beautiful music by the A Sharp Trio and friends. The A Sharp Trio is a family trio of three musically gifted siblings, Anoushka Sharp, 16, a cellist and composer, Amos Sharp, 14 and Aviva Sharp, 12, both violinists together make up the A Sharp Trio. All three have individually won numerous competitions
We had an hour and a half of fantastic mucic, from Beethoven to the Beatles.  In the interval delicious cakes were served and £1000 was raised for the charity 'Mary's Meals'.

(see Picture Gallery)
SPEAKER 3 MARCH 2016
  Stephen Makran, a Rotary Global Scholar spoke to us about "Peace and Conflict".
Stephen hailed from New Zealand, and was born on 11 November - Armistice Day – so he seems to have a natural affinity with his subject matter !
After studying theatre and law at University, Stephen started work as a solicitor but soon realised that he wanted to be involved at an earlier stage before problems arose for people rather than waiting to let the law take its course – in other words, he preferred to be proactive. 
With his passion for social justice, Stephen left New Zealand to go to Beirut, Lebanon and worked as a drama teacher where the problems with sectarianism were deeply entrenched.  He found that educational programmes for young people and using the arts as a vehicle to promote communication were important tools for social change.
Returning to New Zealand, Stephen continued his involvement in children's drama workshops where the experience of sharing stories in a safe environment provided a platform for young people to build confidence and better deal with past problems allowing them to move forward with their lives.
Stephen then moved to London, and enrolled for an applied theatre course at Goldsmiths College.  This led to work in schools and prisons too, where the educational programmes empowered the ability to improve relationships.   Stephen's work at Cardboard Citizens in Whitechapel encouraged children to get involved in drama and make their voices heard and give the opportunity for their personalities to be expressed by talking about themselves and their lives with the "I'm from ….. " theme.
It was at this time that Stephen discovered Rotary, and made his application to become a Global Rotary Scholar. He was convinced that stimulating children's interest in the arts was a force for good which could bring about a change in attitudes.  The drama workshops seemed to break down barriers and help overcome fears of abandonment by means of providing security.  Meanwhile, the improved communication often had a "transferrable effect" amongst families so that the benefits might be shared in terms of conflict resolution. Although this could be a slow process, the establishment of trust was an important foundation for mediation.
The talk stimulated a lively Q & A session with President Neville asking about the content of the drama workshops and whether children read from a script.  Stephen said "no", the workshops were participant driven and built empathy by covering common ground. Christoph mentioned a drama group Amici which mixed able bodied and disabled people and thereby helped break down barriers. Peter Marshall asked about the various schools of acting which use different techniques to express emotions.  David Sanderson asked whether parents ever stopped their children from further involvement in this project, whilst Keith Stuart-Smith referred to sectarian differences in Northern Ireland.  David Leuw asked about work in Damascus, Syria and Robert Ghazi referred to the situation in Iran before the 1979 revolution and overthrow of the
Shah.  Further questions included the matter of funding (answer was mainly the Arts Council of England) and Stephen again emphasised the sustainability of the initiative towards promoting peace and building better relationships.
Stephen presented President Neville with a banner from his sponsoring Club in New Zealand.
 SPEAKER 25 fEBRUARY 2016
Alison Baum talked about " Best Beginnings" which worked innovatively to help families of all backgrounds right across the UK, but there was a huge divide between the north and the south. They do this by working collaboratively to distribute engaging films, DVDs phone apps and magazines, to give parents the knowledge and confidence to maximise their children's physical, emotional and language development. To date they had reached over two million families.
 They work with NHS and Local Authorities, helping parents look after their own mental health and physical health and give their babies the best possible start. They believe they can make a difference for future generations.

Alison stressed the importance of talking to babies, which helped their development.
 They had just produced an App – Baby Buddy – which was a personal baby expert, to guide mothers through pregnancy and the first six months of the baby's life. It was a 'virtual friend' to support mothers on their emotional, physical and social journey through pregnancy to becoming a new parent.
Rotarians could get involved, by fundraising as a Club for Best Beginnings, becoming regular donors, becoming an Ambassador for them and for using a new shopping App  "Give as you Live" where many on-line retailers will give a percentage of the purchase cost to a nominated charity. 
 After several questions the President thanked Alison for her inspiring talk.
SPEAKER 10 FEBRUARY 2016
Gerrard McMahon, from the charity Mary's Meals
Mary's Meals came about as a result of an aid trip to Bosnia made by Scottish fish farmer Magnus MacFarlane-Barrow and his brother, to deliver a donation of essential supplies to those affected by the war. The family had been to Bosnia years earlier on a religious pilgrimage.  They delivered their goods to refugees and returned to Scotland.  However, donations of bedding and foodstuffs kept arriving, so they went back to Bosnia with the supplies. Eventually Magnus gave up his job as a fish farmer to give a year to this charity work and formed the Scottish International Relief (SIR) charity, working on various projects in different countries.
 While in Malawi on a famine relief project, Magnus met a family whose father had died of Aids and whose mother was dying also.  When the eldest child was asked what he wanted from life, he replied 'to have enough food to eat and to go to school one day'.  It was this that inspired the founding of Mary's Meals.
 The purpose of the project was to focus the charity on feeding children at school.  That would stop children who were working all hours from foraging and begging, and would draw them back to school in order to obtain food.  Each child of school age would be given one good meal per day, during the week only - not on weekends, or during holidays.  This would get them to school to acquire a primary education, to learn to read and write at least.
People from the charity go into areas and meet with the elders of the community.  In order for the children to be given a meal, the community must give a commitment that they will send the children every school day. The charity buys food from the farmers and distributes to the schools, who cook every morning.  In Malawi, this is a maize-based porridge, with minerals and vitamins added to it to make it more nutritious.  Mary's Meals relies heavily on volunteers, of which they have 75-80,000.  Most of the volunteers are women, who cook the meals at school every day, but there are some men too. This helps to keep costs low, and concentrated on the food.  The average cost per child is just £12.20, per year.  (In Haiti the cost per child is higher because the food has to be imported.)
In 2002 Mary's Meals fed 200 children a day - in 2014 the number was just short of a million.   In Malawi 25% of primary school children are fed by the charity - half of these are girls.  In Liberia 20-25%, with a smaller number in other countries.
 The charity works on a simple concept: Food at school means better concentration, leading to better learning, and ultimately to a better chance in life. Female children also have a better chance of education because parents will send them to the school for a meal.
 The charity concentrates on supplying food only - it does not get involved in any other aspects of projects, keeping management and bureaucracy to a minimum.  Administration (including fundraising and governance) costs are kept to a maximum of 7 per cent
 Although Mary's Meals receives £250,000 from the Scottish Government most years, due to Dr. Livingstone's link with Malawi - Blantyre was named after his birthplace in Scotland - the Scottish charity has many affiliates around the world with their own fundraising groups.  The vast majority of donations comes from ordinary people - many of whom make regular donations - so the charity has no obligation to any group or organisation to concentrate on any specific areas or projects.
 The UK Department for International Development (DFID) initiated a donation-matching scheme.  Mary's Meals raised millions of pounds and DFID matched it.  Only six other charities were able to raise as much in the scheme. Magnus MacFarlane-Barrow wrote a book called 'The shed that fed a million children' (referring to the shed he still works from) - in the hope of inspiring more people to join his charity's mission.  The book ended up in the Times Top 10 bestseller list!  One man who had pledged £150 then read the book and raised his pledge to £1 million!  The 'dragon' Duncan Bannantyne is also a big supporter.
 Last year's income was about £13-14 million.  The policy of the charity is that no more than seven  per cent may be spent on all administration, including fundraising and governance, and there is a rule within the charity that the person who earn the most cannot earn more than three times the person who earns the least.
 Gerrard also mentioned  that the charity was always looking for office supplies to be donated, and a big van for the volunteers to go to churches and collect unwanted clothes and bedding.  These would then be sent to the Czech Republic, where they would be 'renovated' and sold for a profit.  The money generated from sales goes to the charity.
 SPEAKER 3 NOVEMBER 2015
 Rebecca Oldfield spoke to us about the charity Street Child.
Street Child works with out-of-school children and street kids in West Africa, primarily in Sierra Leone and Liberia.  Their mission statement is "empowering children through education".
Due to the recent Ebola outbreak, thousands of children are at acute risk of missing out on vital education.
Street Child was established in 2008 with the aim of identifying children at risk and to date has helped 35,000 children from the streets or in remote areas to create educational opportunities and giving their families the financial wherewithal to keep them there by means of providing financial initiatives which create income generating opportunities.
Small business grants and cheap loans are provided by "seed banks" which enable families to purchase crops and ensure good quality harvests – the profits can then be used to repay loans and reinvest in next year's crops as well as allowing for teachers to be paid.  Street Child encourages people to be self-sufficient, and favours matching family grants so that they can provide training and monitor businesses.
Not only does the charity work with communities to create temporary and permanent school structures, but also Street Child pays for a child's first year back at school and also helps identify able community members who can train to become teachers and contributes towards their pay.
The Ebola virus killed over 8,000 people in Sierra Leone and Liberia and also led to more deaths from malaria, while leaving more than 20,000 orphaned children who are at risk of malnutrition and abuse. The economy in both countries has been devastated, and many people have lost their possessions because everything has to be burnt where Ebola has been detected.  With average families each having six children, the shortage of food and bedding has been acute.
Street Child is seeking to raise £1 million to help ensure that a minimum of 20,000 children in Sierra Leone and Liberia can progress towards a sustainable future.
Rebecca then played a short video about a typical mother in Sierra Leone affected by the Ebola outbreak, and asked Rotary to help by contributing £240 which would provide 1 year's support for a woman to help her business and children. Rebecca also spoke about "Street Fleet" which is a sponsorship scheme to pay running costs of £1,000 pa for motorbikes and £3,000 pa for 4 x 4 vehicles respectively which are used by social workers to reach remote rural areas where there is little or no access to education.
More information about the Street Child and the work they do is available on their website www.street-child.co.uk.
A lively Q & A session ensued with President Neville asking about teacher training in Sierra Leone and Liberia whilst Keith Stuart-Smith asked about the people associated with running Street Child (the CEO is Tom Dannatt, who is the son of Lord Dannatt the former head of the British Army).  David Leuw asked about administration costs for the charity, and Rebecca confirmed that these were 10% whilst 90% of all funds raised are spent on projects.  Carole Harris, who has done charity work in Sierra Leone,  asked whether Street Child had NGO status and Rebecca confirmed that the charity was indeed registered as an NGO.
The vote of thanks on behalf of the club was given by President Neville.
SPEAKER 12 NOVEMBER 2015
Our the speaker was Jeremy Scott, who had cycled 52,000 miles from London to New Zealand, over two years and 29 countries.
 Jeremy showed a short video to introduce his story, followed by pictorial slides to illustrate his incredible journey.
Born in New Zealand, when he was 3-4 years old it was discovered that he had a massive hole in his heart.  The cardiologist eventually had to operate as the condition worsened.  Fortunately, the surgery was successful, and from a weak child, Jeremy became active and sporty. 
Some years later, Jeremy was living happily in the UK, but felt he needed a substantial challenge. Through living with some young people who had travelled  over various continents, he developed the idea of riding a bicycle from London to New Zealand, despite having neither cycling experience nor bicycle. Over the next seven years, he researched and planned the trip until he felt confident enough to undertake it.  The first time he rode the bike fully loaded was the moment he took off on the trip!
 During the first week in Europe Jeremy worked out quantities of what he would need, bearing in mind that everything would have to fit into his bicycle bags.  Thinking about the enormity of the journey ahead made him feel very alone, and he decided it best to think only from one place to the next.  This proved a wise move, and over the next 10 weeks cycling across Europe his loneliness left and his confidence increased.  By Istanbul, he felt confident or making it all the way to New Zealand.
 Turkey proved the toughest country - Gallipoli, Ephesus, Cappadocia – it was the worst winter in 50 years (he had to wait till 10.00 am for the temperature to rise to minus 20 degrees!).  However, it was the only way to get to Iran.
 Iran's hospitality and culture exceeded expectations - apart from one terrifying experience at a truck stop when he narrowly escaped near-certain death at the hands of drug dealers (foreigner with passport!)   Riding through the desert towards Turkmenistan and through Iran, Jeremy encountered many incidences of the kindness and humanity of the people there.
 He rode for hours first through massive sandstorms in the Taklamakan desert to the West of China, then cycled through the beautiful countryside and villages of Zhangjiajie.  Then to South Korea and Japan, which was highlight of his journey with its temples and history.
 In Hanoi he had a life-changing experience when he met a fellow Kiwi, Warren Bowers, whose brother Paul had been operated on two years before Jeremy, by the same prominent heart surgeon.  Unfortunately, Warren's brother died during the operation, but perhaps what he may have learned from that operation helped save Jeremy's life.  Jeremy realised then that the fund raising was about people like Paul Bowers and others about to undergo heart surgery, for whom additional research might mean the difference between life and death.
 In Australia he was joined by his aunt and uncle, who cycled with him the 3,100 km. from Darwin to Cairns.  Both Rotarians, they are very keen cyclists, riding around Australia, and doing many Rotary rides prior to district conferences there.  Down to Melbourne and then to New Zealand, he experienced mixed emotions, knowing that he was reaching the end of his momentous journey.
 Finally reaching Auckland, he received an overwhelming reception from the people there - from the first day of from sheer terror, loneliness and insecurity to being surrounded by family and friends two and a half years later - job done!
 The journey changed him as a person, having taken an idea far beyond anything in the past, having stopped making excuses, and taken that first step.  Additionally, he had never been able to speak in public even in front of friends - now after making mistakes and stretching boundaries, he is a motivational speaker.
 Jeremy then answered questions and was thanked by President Neville for a very interesting and inspirational talk.  Jeremy said that his next project could be going from the top of Alaska to the bottom of Argentina
MURDER MYSTERY EVENING - 28 SEPTEMBER 2015
AN INSPECTOR CALLS
A most surprising thing happened whilst a few Fellows and guests were having a quiet dinner at the Oriental Club on Monday last.  We had just started our meal when a member of the Club staff rushed in with a message that a dead body had been found in the linen closet close to our dining room.  It was apparently the body of a Mr Oscar Levante, a Rotarian, who was booked to come to our dinner, but who had been brutally murdered.  Several in our dinner party were, we were told, suspects and a police Inspector would be calling to question those about the murder. We were told that Oscar Levante was about 79 years old, single and had been living in Monte Carlo.  He was a flamboyant financier and wheeler-dealer and on the surface very wealthy.
We were then (somewhat strangely) shown the murder weapon, a long and heavy silver knife covered in gore which had been found at the scene of the crime.  This sad news did not seem to put anyone off the chicken course.  But, as we were finishing this, the Inspector Called, saying that he understood that Mr Levante was a Rotary Club Member and was about to eat with us,
He first questioned Christopher von Luttitz, suggesting Christoph had been close to Oscar and that he had murdered Oskar in revenge for Oskar raping a girlfriend in the 60s.  Oskar admitted the relationship.
The Inspector then questioned Sheila Green, suggesting that in the 70s she been engaged to Oscar but that he had betrayed her with another woman, and that this was her reason for killing him. Sheila was coy about the relationship . Robert Ghazi was a suspect because, first, it looked as though his jacket was covered in blood. He admitted knowing Oscar and designing a house for him in Monte Carlo; Oscar would not pay his large fee and this was suggested as a motive. President Neville was accused of killing Oscar because he was blackmailing Neville who had allegedly given him a very high unsecured loan.
The Inspector then said that Carole Harris knew Oscar whilst in Juba, and that she had refused his advances so he had spread rumours that she was his mistress to ruin her reputation – again a motive for murder. Kevin Coyne another accused was said to have accepted a bribe from Oscar who then proposed to expose him. Peter Schweiger was said to have been blackmailed by Oscar (into making him shoes for life) otherwise Oscar would have exposed Peter's alleged membership of the Stazi in East Germany.
I must say at this stage that all the accused Members vociferously and forcefully argued against the charge of murder,  BUT then John Bash received a note suggesting that the Inspector  had been seen visiting Oscar n his room and that a serious row had ensued and that the Inspector had
 threatened Oscar's life; therefore this investigation was a way of finding a scapegoat for the Inspector's own murderous act.   This was put to the Inspector who denied everything.
BUT suddenly a note was received from the Oriental Club's management that one of their housemaids had admitted killing Mr Levante as he had sexually assaulted her in his room.
We then all drank our coffee in comfort to finish our delicious meal – it was good to know that the Club had no murderer amongst its Members.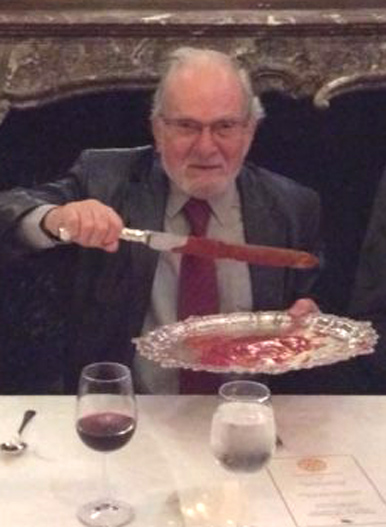 SPEAKER 3 SEPTEMBER 2015
 Matthew Lawson introduced Joyce Bellwood, who was down to speak about the Commonwealth Games in Glasgow.  Joyce however, a Rotarian from Aldershot, told us that she proposed to speak about the legacy of the 2012 Olympic Games.  She had been a Games Maker (volunteer) at the games.  Although it seemed that there had been little increase in sports' participation, there was indeed a great legacy.
 Joyce referred to the legacy aims, such as making the UK a world-leading sporting nation and showing that the UK is a good place to live in, visit and for business.  She told us of the successes of Sport UK in 2014 in supporting bids for or hosting some of the world's biggest sporting events, in Diving, Track Cycling, Triathalon, and the APT World Tour Finals.  Also the Grand Départ of the Tour de France in Yorkshire, which saw 4.8 million people attend and which generated £128m for local economies.
Future events generated by UK Sport included the 2016 World Track Cycling Championship and he 2015 Rugby World Cup which would take place in the stadium before its final transformation as the National Centre for Athletics and the home of West Ham United.  For cyclists there was the Lee Valley VeloPark with its 6000 seat velodrome with 8km of traffic free mountain bike tracks and an Olympic BMX track.  The London Aquatic Centre could seat 2500 and was the best community swimming facility in the country, The Olympic Lee Valley Hockey and Tennis Centre now provided 6 hard tennis courts and two world class hockey pitches.
 Joyce said that other developments were Loughborough University London Campus and 7,00 new homes.  But one of the most important parts of the legacy was volunteering.  But 7 out of 10 sports clubs still needed volunteers.  Volunteers invested their time in local communities.  The 'Join in' website gave details of volunteers needed. - www.joininuk.org – and connected people with local sports clubs, and at the moment was helping to deliver sport to 14-25 year olds from disadvantaged areas, and was seeking volunteers to support people with mental health difficulties.
 Finally Joyce told us of one further legacy that was very close to her heart – this was the Games Maker Choir of which she was a member, which had performed at some of the Country's biggest sporting occasions, including Rugby Internationals at Twickenham, Rugby League World Cup at Wembley.
SPEAKER 12 MARCH 2015
Martin McElhatton, the Chief Executive of WheelPower, an honorary member of Dunstable Rotary Club, told us had had a serious road accident when he was 18, when his bike came off second best when a lorry backed out.  He was paralysed from the waist down and was taken to the spinal unit of Stoke Mandeville Hospital. He spent a year there with 13 weeks in bed. This was a great trauma for a young man who could not walk and had great difficulties with many other functions.
However, with great support at Stoke Mandeville he had a chance to change his life.  He was introduced to sport as part of his therapy. He began swimming and then came to terms with the fact that he had a wheelchair.  He saw wheelchair basket ball and thought "That's for me". He then created a Sports wheel chair and then formed a basket ball club where he trained hard with friends.  They took part in tournaments and were successful. He then went with an under 21 group to Italy, where they played the full Italian team in front of 5000 people (they were trashed).
Then came to Paralympics of 1984 and he was part of the GB basket ball team preparing to go to Illinois, but this was cancelled six months before the Games were to take place.  So at very short notice it was organized at Stoke Mendeville, which was great as friends and family could watch; they could see how he had made his 'journey'.  He took part in a couple of matches. 
There were opportunities to volunteer at WheelPower.  They had no News Letter for some time and he sorted this out (in those days "Cut and Paste" meant just that).  He then became more involved in fund raising, then he was asked if he could look after the organisation for a few months – and he was still there!.  WheelPower helps to rebuild lives through Sport, which can play a great part in the lives of the disabled; it gives young people self esteem and confidence.  They work with Rotary, with its links to local communities, raising money locally to help young people get involved in Sport.  They help to raise the public profile and support ordinary young people – not just the elite.
In answer to questions Martin it was a challenge to raise money from professional football clubs some of whom already have Disability Foundations.  Asked about the wheel chairs, Martin said that some are built in the UK and some overseas; some were built by disabled people.  There as many types as the sports concerned.  They can be very expensive, going up to £7,000, but 'starter' chairs are much cheaper.
 Each year WheelPower runs the Inter Spinal Unit Games with entrants from all over the UK.  It is over four days at Stoke Mandeville with lots of support from Rotarians.  The 2012 Paralympics had a great effect and help to raise the profile of Paralympic sports.  There was an attitude change and young people could see what disabled people could do'
 SPEAKER 23 APRIL 2015
 Our guest speaker was Rotarian Brian Stoyel, a former Governor of RIBI, who had come from Saltash in Cornwall, to talk to us about malaria in Tanzania.  He was a member of REMIT (Rotarians Eliminating Malaria In Tanzania), a Rotary charity based in Plymouth.  With the help of a power-point presentation, Brian said that
 Tanzania was a very beautiful country, with some wonderful scenery and incredible wildlife, but it also had its problems, and a major one was the female Anopheles Mosquito.  This particular species was a malaria-carrying mosquito, which only operated at night-time, from dusk onwards.  Everyone was vulnerable, but lactating mothers and their babies were particularly at risk because their immune systems were either not functioning fully or were not yet developed.  When REMIT first began work, they approached the Tanzanian Ministry of Health who said that mosquito nets were the most effective defence to malaria.  When they approached the London and Liverpool Schools of Tropical Medicine they got the same answer:" Nets".  So REMIT began supplying nets, using Rotary funding, such as the old matching grants (today they use TRF and 3H grants) to set up centres in various strategic locations, such as Dar-es-Salaam, Moshi, Arusha and Newala.  To begin with, nets were imported into Tanzania at a cost of about £10 a net, but they were now made locally at a cost of only £2.50, whilst at the same time providing local employment and otherwise benefiting the Tanzanian economy.
  To begin with, the nets had to be washed in an insecticide, but they are now pre-impregnated with insecticide and are made to WHO standards.  When REMIT first began, malaria caused nearly 3,000 deaths a day.  When a Jumbo jet crashes, there is great upset, but the deaths from malaria in Tanzania alone were the equivalent of several jumbo crashes.  The work of REMIT had been a major success.  In those areas where it operated, it had reduced malaria by an impressive 64%.  But the work did not just involve supplying nets.  REMIT also did "residual house spraying", spraying of swampy areas where the mosquitoes bred, planting malaria-repellent trees and, of course,  providing education to raise awareness of the dangers of malaria and how to mitigate them.  Brian finished by saying that 25th April was World Malaria Day.  (He is happy to discuss REMIT and its work with anyone who is interested but members can also get further information from REMIT's website (www.remit.org.uk)).
SPEAKER MEETING 5 MARCH 2015
Gerald Oppenheim spoke about the National Lottery and grant making.  Gerald told us that after University he started working in local government in a housing department, where he then made grants to homeless people and those with addictions. 
He successfully applied to work for the National Lottery when it was started in 1995 under John Major's government when Britain was the only major country in Europe without one, as it had been frowned upon. There had been one in 1821 to fund the building of the British Museum but the excess funds had been misappropriated.
 The new National Lottery allocated 28p in the pound to good causes divided equally between the arts, sports, and charities. Gerald as director of the charities side had no precedents on how to give grants to the huge number that applied. In the three months before the first draw he had boxes and boxes of appeals and so he employed students and English speaking Commonwealth people to help.
A theme of giving to those in poverty, need and aspirations evolved.
A press release announced that the first grants were to be awarded on Monday 21st October. There were leaks and sensational stories in the Sunday press. That all helped to raise awareness of the Lottery so that 60% of the population bought tickets. It is the so called soft end of gambling and raises huge amounts of money for the government. It's a voluntary tax.. Grant making has changed. At first it was seen as a handout, but now it delivers projects.
John Bash asked how in the beginning they had worked out which charities to grant. The response was that it was for specific good causes.   Matthew asked what checks there were to prevent fraud. Gerald explained that Charities were checked by the Charity Commission. Their accounts also had to be published. There have been a very few cases of fraud but usually for smaller amounts.
VISIT OF LORD MAYOR 5 FEBRUARY 2015
The President introduced Audrey Lewis the Lord Mayor of Westminster, who was   wearing the Marylebone chain of office.  Councillor Lewis had been in Marylebone for some 44 years and since 2002 had been Councillor for the Bryanston and Dorset Square ward. She told us that until becoming Lord Mayor she had been a Cabinet member.  Her role was now apolitical. She was now very much involved in fundraising for the Sir Simon Milton Foundation.  He was a former Leader of the Council, admired across the political spectrum. 
At this point President Keith presented the Lord Mayor with the Club's cheque for £250 for the Foundation, which the Lord Mayor said was greatly appreciated.
She told us that when she came to Marylebone she had had no intention of getting involved with politics. However she joined the Marylebone Association, helping to change its constitution to allow the Chairman only 3 years in office and then became interested in Licensing, which had been her great interest as a Councillor.
She said the being Lord Mayor "was bad for you".  It was an extraordinary year and one had to calm down. She had to remember not to get in the back of her own car. But, as "First Citizen" of Westminster, she had an opportunity she would not otherwise have had to go to places like Buckingham Palace and meet people like Ambassadors. She gained knowledge for example about the Services: Westminster had adopted a frigate HMSWestminster which had the Freedom of the City of Westminster which entitles its crew to parade through the Westminster with fixed bayonets.  She had had a day at sea on the frigate, a marvellous experience.  As Deputy High Steward of Westminster Abbey she sponsored inter-faith services. 
Her work with the Sir Simon Milton Foundation raised funds for both the elderly, including Silver Sunday and a tea-dance at Grosvenor House, and for young people. The Foundation, was aiming to open a University Technical College in Pimlico providing technical and vocational education. 
She was involved in commemoration of the start of the First World War.  There were 10 VCs awarded to men born in Westminster. Eventually there would 10 engraved paving stones in Victoria Embankment Gardens. 
Councillor Lewis said it had been an eye opening experience – from meeting The Queen, to seeing the work of the wonderful teams that keep Westminster tidy, to standing outside the Abbey honouring those who had fallen defending the country, to listening the children recite poems. 
President Keith said he now had two tasks – one was to present the Lord Mayor with the Club's banner and the other was to recognise the 50th anniversary of ISH and also Kevin Coyne's retirement as Dean of Students at ISH.  The President thanked Kevin for all his work for the Club over many years Kevin was presented with a cheque for £5000 as the Club's part in setting up with ISH and the University of Westminster a scholarship in the Club's name. 
Kevin recounted that he had come to England in 1987 and decided to have the rest of his career in the UK. He felt that his life here would not have been possible without the support of the Club.  He intended to be involved for a long time. 
In answer to questions, Councillor Lewis said that the title of London Mayor, for Boris Johnson, was misleading as he was more a regional director or a governor as traditionally mayors had been non-political.   She told us that when her mayoral year was ended she would continue her term as ward councillor for another 2 years, and would continue helping to set up the Technical College. 
Neville Brick thanked the Lord Mayor for giving us a fascinating insight into the Lord Mayor's role.
 SPEAKER 30 JANUARY 2015
 President Keith introduced the guest speaker John Vine, President of the Westminster East Club, who had come to speak about immigration and border control.  John began by saying that his background was in the police and he was a Chief Constable in Scotland, minding his own business, when he was asked to set up an Inspectorate of Borders and Immigration.  He had to do so from scratch, recruiting staff from police, health and other inspectorates to help him.  In order to avoid conflicts of interests, inspectorates cannot be staffed by civil servants, although civil servants can and do assist the inspectorates.
 John became the first Chief Inspector of Borders and Immigration from 2008 until very recently when he took early retirement.  During that time, he produced a total of 70 reports with over 500 recommendations, which were laid before Parliament as well as given to ministers. Most of his recommendations have been accepted and implemented although there are a few reports which are unlikely to be reviewed and acted upon until after the General Election in May of this year. 
Why was the inspectorate set up?  It was the Government's response to the scandal which ensued when it became known that there were a large number of foreign national criminals in the country who had not been deported.  Indeed, nobody knew where they were.  The scandal cost Charles Clarke his job as Home Secretary.  He was succeeded by John Reid, who then discovered that there were an even larger number of asylum claims stretching back many years which had not been processed, leading to his famous remark that the Border Agency was not "fit for purpose" (a remark that John thought was a mistake).
 What are the issues which had to be addressed by the new Inspectorate?  John's starting point that migration has been going on for a very long time.  There is nothing wrong with migration per se.  London's food and entertainment industry, for instance, would not survive without migrants.  The question is whether they are entitled to be here.  To this end, there was a need to focus on two issues, namely security and identity (knowing who is in the country).
 On the question of identity, the Border Agency is now doing 100% checking.  This has put an enormous strain on resources and is the reason for the long queues at airports.  This issue is complicated by the fact that there is no advance passenger information for people travelling within the EU.  The last government abandoned exit checks, on the grounds that they were too bureaucratic and produced little benefit, but it is now recognised that this information is essential if we are to get any clear idea of who is in the country and for what purpose.
 Another challenge is how to identify legitimate asylum seekers.  Britain, like a lot of other countries, is having to confront the phenomenon of the economic migrants, who will go to extraordinary lengths to migrate somewhere where they have some prospect of improving their economic circumstances.  In John's view, we can only deal with these issues if the Border Agency acts more like a police force.
 Another issue is transparency.  John said that with the publication of his reports, there is much greater transparency than previously.  If we are going to have a proper debate on this subject, then we need the information which will enable us to make informed decisions.  That said, the debate has not progressed much further than that of two people talking over a pint in the pub.  John was due to retire in June, but since his latest reports are not likely to be considered until after the May election, he decided to take early retirement and  is now in the process of setting up an immigration and border control consultancy. 
After a lively Q&A session, Keith proposed a toast of thanks for a very informative and thought provoking talk. 
SPEAKER 8 JANUARY 2015
President Keith was pleased to introduce Andy Malcolmson who is the fundraiser of the Lejeune Clinic which we are supporting this year. The charity supports families with Down Syndrome.  He described his visit recently when he met a family with two children, identical twins, one of whom had the syndrome. In this short time he could see the benefit the family derived.                                                                
We were given detailed handouts of the main topics covered in the talk.
Down Syndrome was first described in 1866 and named after the English physician John Langdon Down who first characterized Down syndrome as a separate form of mental disability. It is now known to be due an extra chromosome (21) which results in a number of problems which can affect most body systems and can cause developmental delay. It can occur in mothers of any age but increases in likelihood with maternal age. No provoking factor is known.
The clinic is named after Professor Lejeune who pioneered this work in Paris in 1966. The clinic here, in St John's Wood, was set up in 1992 and has been developing since. Referral is by direct contact usually by word of mouth from Down Syndrome support groups around the country. There is a waiting list though some cases are prioritised.  Most of the work is done with children aged six months to three years. There is an initial assessment of three one hourly meetings with a Consultant Paediatrician. This report outlines suggestions for future therapies. Sometimes the parents come back for further treatment at the clinic for speech or occupational therapy, others are helped to access treatment in the NHS.
St John and St Elizabeth Hospital and the attached GP practice provide accommodation. The families are asked to contribute at least £100 but not all are able to do this. Some are able to pay the full costs which might be £1500. Constant fundraising is required for treatment expenses and helping families with their costs.
Andy thanked us for the therapy beds which we had donated and said they were already in use. We would be invited to see them at an official handover ceremony in the near future
11 DECEMBER
Matthew Lawson introduced: Sophie Bowering from the Royal Academy of Music.  Sophie introduced our music scholar, Emily Davies, a very talented violinist who obtained a first in her first music degree and was now studying for a postgraduate music degree.  She had now obtained a post with the Birmingham Symphony Orchestra.  She played J S Bach's Partita No 2 in D, The Allemande.  She was playing with a Grancina violin from 1740 which had had for two years.  President Keith presented the Club's cheque for the music scholarship.
SPEAKER 4 DECEMBER
Kevin Coyne  introduced Miss Rashida Bhaiji a teacher and fundraiser for Street Child a UK charity, operating in Sierra Leone, that aims to create educational opportunity for some of the most vulnerable children.    
    
She spoke about the Ebola Crisis and the Street Child Appeal. When she moved to Liberia in Sierra Leon she was surprised by the degree of poverty; there were so many children sleeping on the streets, with almost 50,000 without accommodation.  They also lacked education. So over the last five years they have been encouraging them to go back home, providing them with proper education in schools. In order to achieve this aim, they had to help some of their families start small business through financial help and bank loans. 
So over 4 years ago they stared building schools and by 2014  managed to have some 250 - often just  in a simple building . They also trained many people to become good teachers, also helping them to learn more by learning different languages (in Sierra Leone there are several languages with English the 'official' language).
Sadly, last July many volunteers and expatriates left the country because of the  Ebola  crisis  which brought the economy to stand still.  Prices went up as production of agricultural products was reduced.  Many children and adults died because of Ebola and lack of medical treatment.  According to figures from WHO and UNICEF, there is the potential that by this December there would be 1,000 children orphaned by Ebola every day to find more details please look at:  www.street-child.co.uk
District International Chairman,Peter Bradley, started fund raising few months ago and encouraged Rotarians to do their best to do the same in order to help jn this crisis. (Please look at the District Website.)
After questions Rashida was given a vote of thanks for an interesting and informative talk. It was agreed that our Sergeant-at-Arms collection be passed to the Street Child appeal.
SPEAKER 27 NOVEMBER
Noordin Kassam introduced out two speakers: Chloe Kastoryano and Amy Baker of the Scleroderma Society. 
They told us about this disease which affects about one person in 10,000 in the UK – there some12,000 sufferers. Scleroderma (which comes from the Greek meaning 'hard skin') is a connective tissue disease that affects the skin and other major internal organs.
It is an autoimmune condition, involving the overproduction of collagen and blood vessel damage. Excess collagen is laid down in these organs which in turn results in scarring and reduced normal function of the affected organs. Scleroderma can cause physical disability and be life threatening as the skin, joints, tendons, and parts of internal organs can all be affected. Autoimmune conditions occur when the body's tissues are attacked by its own immune system. 
The cause is unknown and there is no cure; there are treatments but these are not very effective. The charity had been established in1982 and was originally run by volunteers. It has three aims:
 (a) to support sufferers and their families –
(b) to raise awareness– they work with specialist to make GPs aware of the condition (many do not know about it). They are developing their website to educate GPs'
And (c)  to support and encourage research. They are spending £1m on research and work with the Royal Free.  Research is being carried out in conjunction with Universities. There is one available drug which can lead to some amelioration.
The symptoms are a tightening of the skin – patients think they are "shrinking". It often leads to misdiagnosis – sometime it is thought to be lupus. It is a systematic disease that then affects major organs.  The condition can attack persons of any age, gender anywhere in the world.
SPEAKER 13 NOVEMBER 2014
David Leuw introduced Nishiwaka Yawanakawa, a Brazilian Indian, who told the club of the situation of indigenous Indian tribes in Brazil. While he spoke he wore a large ceremonial headdress composed of the feathers of Macaw and Vultures.
 There were about 900,000 indigenous people in Brazil, members of tribes that varied a size from just a few hundreds to 50,000. It was believed that there are still about 100 tribes that have not had contact with non-indigenous people. Between them the Indians owned 13% of the land in Brazil and their status was protected by the Brazilian Constitution of 1988; however they have no representatives in the parliament.  He told us that the newly re-elected President of Brazil seemed to be unsympathetic to the needs of the Indians and there was a lot of corruption. The forest was being burnt down and their land was being taken for agriculture.
Nishiwaka felt that he was a representative of all the indigenous people of Brazil. His grandfather was the first member of their tribe to see a white man (who gave him a knife and some cassava).   Nishiwaka's father took his family into a nearby town where he went to a local state school and learnt Portuguese. He was now in London sponsored by Survival International http://www.survivalinternational.org/ . This was one of many NGOs which supported the indigenous groups in Brazil.
SPEAKER 6 NOVEMBER 2014
Nick Hamilton introduced Dominic Frisby who is an author of financial books and a comedian. He had written a book about the Bitcoin.
 Dominic began by saying any comedy in his talk was accidental and he was going to talk about the Bitcoin which is a digital monetary unit. A survey of the audience showed we had all heard of it but no-one had any.
 The story started in 2008 when, in response to the financial crisis, the idea of a digital currency was researched by many people. Satoshi Nakamato was credited with solving the problems. He had kept anonymous but was said to be worth ½ billion dollars. In 2009/10 there was an enormous speculative bubble and crash when the value changed by a factor of 2 million. 
 The potential benefits of the use of digital cash were illustrated by the scenario of sending dollars to the US without a dollar account. This was a time consuming process with costs. At the moment only 2-3% of the world's money is in cash. The system has been shown to work already and you can use Bitcoins to a buy a coffee in Shoreditch. In the speaker's opinion the Bitcoin would eventually fail but something similar would replace it. Governments had a problem with this because up till now they are used to printing money to try to control the economy. He thinks those countries that do not allow electronic money (such as Russia and Chad) will lose out economically and there will always be a black market anyway. He then discussed how the combination of the universality of mobile phones ( there are 6.3 billion) and a digital currency would transform the world of the people who have no bank accounts, which is of course the majority.
 After the talk there were a number of questions.
 Noor asked about the M-pesa in Kenya which had started by people transferring air-minutes. Vodafone had encouraged it and now it carries 75% of financial transactions in Kenya.   M-Pesa allows users with a national ID card or passport to deposit, withdraw, and transfer money easily with a mobile device.
 John Bash asked about security and also how to obtain Bitcoins. Like cash it is not secure and not traceable. Dominic advised to keep it in several 'wallets'. To get a wallet usehttps://blockchain.info/wallet  and to buy bitcoins use a credit card on https://bittylicious.com
.
 Nick Hamilton thanked Dominic for his informative talk. (It was the first time he had seen members take notes.) Nick told Fellows that Dominic's book – Bitcoin – was on sale, signed by the author.
 SPEAKER 30 OCTOBER 2014
President Keith introduced the guest speaker, Helen Antoniou, who is currently the Assistant Governor for the Central Area. Helen has had a distinguished career in her 20 or so years with Rotary, having been AG for the North West twice, before being, as President Keith put it, "promoted" to AG of Central Area.  Helen said that, like a lot of people, she had joined Rotary in order to give something back to society.  She was originally introduced by a funeral director and ended up being a founding member of a breakfast club (the Sunrise Club), of which she later became President.  DG David Palmer had already spoken to the Marylebone Club, so Helen would not dwell on the aims of Rotary but would focus instead on three particular areas of Rotary's work in which she herself had been involved.  The motto of the current Rotary Year is "Light up Rotary" – in other words, shine a light on the work of Rotary in order to get people involved, and what better way of doing so than by explaining some of Rotary's successes?
The first example she gave was a project to supply minibuses for the Ukraine.  Sponsored by the charity, Felsted UK Aid, and supported by Immediate Past District Governor, Dick Nathan, and District 1130. It began when a serving policeman took a minibus to the Ukraine to bring back ill and disabled people for medical treatment in the UK. He collected them from a Revival Centre, which had been established in the Ukraine following the Chernobyl disaster.  30 years on, the radioactive materials released into the atmosphere by the disaster have now entered the gene pool, with the result that 25% of children born in that part of the Western Ukraine suffer from one kind of disability or another.  Initially, the police officer  just  wanted a contribution towards the cost of his petrol (about £1,200), which was duly supplied, but Rotary is now raising funds to replace the van, which has clocked up in excess of 200,000 km in round trips to the Ukraine. 
The second subject Helen discussed was Ebola.  She held up a surgical glove and said that £1 buys 15 such gloves. She referred Fellows to the BBC updates for the latest news on the spread of Ebola, which show that health services in West Africa, particularly in Liberia, are being overwhelmed by the crisis.  They badly need basic items, such as food, clothes and medical supplies, including surgical gloves.  Donations can be made to the Marlowe Rotary Club which will pass them on to a club in Monrovia for distribution.  So far, the Marlowe Club has raised £8,000. 
Helen then went on to say that she is currently being trained to take part in the Silver Line Project.  DG David Palmer introduced this project to the Club when he visited recently, explaining that it is similar to Child Line, only for senior citizens rather than children. 
Finally, on a slightly different subject, Helen reminded fellows that 24 October had been World Polio Day, when Rotary was very proud to announce its involvement in polio eradication.  When the programme began some 15 years ago, many said that eradication was not possible, yet it was nearly eradicated, being found in only 3 countries at one stage.  In the last year, however,  228 cases of polio have been identified in endemic countries and 19 in non-endemic countries.  It has spread to more than 3 countries – mainly Afghanistan, Ethiopia, Pakistan, South Africa and Syria – but we are still very close to final eradication. 
Helen's talk was followed by a lively Q&A session which was almost as interesting and as informative as the talk itself. 
 FIRST EVENING MEETING  27 OCTOBER
The inaugural evening meeting of the Rotary Club of St. Marylebone took place in the Boardroom of the Oriental Club, starting at 6.30 pm.
President Keith welcomed everyone and explained that this evening's first meeting was by way of an experiment to see if there was interest in holding the two evening meetings in a month as a means of increasing membership in line with the Club's decision to have 6 meetings a month (weekly lunchtime meetings plus 2 evening on the second and fourth Monday in the month). Leonard Specterman identified that members who attended the lunchtime and/or evening meetings would be members of the Rotary Club of St. Marylebone.  
All attendees introduced themselves and spoke of their activities in Rotary. For example, Rotoract in London is identifying a motion that will be presented by two members at the UN in New York, in the coming days - a report of this presentation will be made at our next evening meeting on 10 November. 
A full discussion was held concerning the need for our Club, and most other clubs in RIBI, to reverse the decline in membership. Lunchtime meetings that were the mainstay in the past, when members could enjoy extended lunchtimes, are no longer possible in the modern economic climate and are part of history. The consensus view was that too little is known about Rotary at large and that it was essential to make a better connection with professionals at large to attract new (and younger) members.
For our Club those present agreed to:
Make one team (and a second, possibly) for our Marylebone Challenge Quiz on 17 November
Distribute leaflets and talk with visitors to the Marylebone Christmas Fayre (19 November).**
Support Father Christmas on Sunday, 21 December (11 am to 1 pm) in Marylebone High Street/Farmers' Market area - collecting for our charities and handing out leaflets**.
**high visibility jackets marked 'Rotary Club of St Marylebone' are available to be worn.
The meeting was lively with an enthusiastic buzz throughout. It is hoped that the Club will be able to sign up some new members from this meeting. Copies of the Club's weekly bulletin will be distributed to all who were present at the meeting. 
The meeting was clearly an overall success and we look forward eagerly to the next meeting on 10 November in the Boardroom of the Oriental Club, when we shall have an agenda more structured on the lines of Rotary meetings. All members are welcome to attend.
SPEAKER - 9 OCTOBER 2104
Peter German introduced Adam Schulberg, an audiologist, whom he met seven years ago when he realised he had a hearing problem.  Adam had changed his life, and  still looks after him.  He is very knowledgeable and works with a charity in Nepal. 
Adam told us that his wife had written a speech for him, but he would nevertheless ad-lib.  He is MD of Cubex and Chief Audiologist. His method is to identify the patient's needs, by working with the family and friends, as what he looks at is communication loss.  Most people seem focussed on the 'bit of plastic', he treats the problem and family dynamics.                    
He had been an audiologist for 35 years, the last 20 dealing with adults; younger people seem to cope well. Older people are often not aware of hearing loss; a quick aside is not heard, and when asked to repeat it, the answer often is "It doesn't matter" - But it does! It can lead to social isolation.  Untreated hearing loss can lead to dementia and often a lot of anger between parties. 
Adam feels they are 'change agents' – they look at ways of communication. It is not about selling hearing aids. They specialise in treating hearing loss, balance and tinnitus, They try  to make people aware of how hearing loss affects them and how to manage it.  They treat the person not the condition.  Most people think the problem lies with the ears, but it is the brain that is most important. Rehabilitation depends on the patient's commitment; Everyone in the team must be aware of 'where the patient is'; the family must buy into the process.
Adam spent 10 years on the Iberian peninsula, where he treated the Spanish Royal Family, then 20 years ago he joined Cubex who are now in New Cavendish Street.  For 30 years he has been involved with a charity who run a clinic in Nepal.  There they now have some 700 volunteers,  who are first point of contact, and seven community care assistants.  In Nepal there is a lack of healthcare, and much hearing loss among children, which can develop into serious disease.  They are now building a 16 bed hospital, which will be run by local people.
 There were many questions for Adam, asking why the reluctance to wear aids when provided, which often is a question of pride – no one wants to admit that are losing some faculties. Adam explained that as one gets older one can lose the ability to hear the higher frequencies.  People have to concentrate more. One to one communication is easier but with many people in the room people 'switch off'.
It usually takes seven years to realise one has hearing loss and then another seven before any steps are taken to deal with it.
SPEAKER 11 SEPTEMBER 2014
President Keith Stuart-Smith introduced District Governor David Palmer At the request of the president Jenny Palmer explained the very interesting history of panama hats.
David  brought the greetings of Sue Coleman, President of his club, Barkingside. David also presented the banner of the current President Rotary International, Gary C. K. Huang whose message for this year is: "Light Up Rotary"
 David explained that he came into the position of Assistant Governor of the South East due to the unfortunate passing of the AG  at the time. He served in this position for a number of years and then was put forward for DG of our District 1130. He said he was proud to be in the position although it was time-consuming but enjoyable. David believed that Rotary should be enjoyed and not be an obsession.
David referred to past DG Rick King's bullet points which identified what Rotary should emphasise. Number 1 was friendship Rotary projects were not mentioned until number 20. David believed that we need continuity in Rotary and referred to the continuation of a project in the Ukraine first started by Past DG Dick Nathan.
DG David said that he hoped by the end of the year the Polio Plus campaign could be wound up and polio eradicated throughout the world. There are only 149 cases left in 3 countries and they would not exist except for political reasons in those countries.
He mentioned that a Vocational Training team is being sent to India to deal with women's health issues.
The DG mentioned that Past DG Rick King will be one of the featured speakers at the District Conference. He finished by referring to a call by Yvonne Phelps who wanted to do something to help the elderly and lonely. He became involved with the Silver Line charity which was started by Esther Rantzen and involves talking to the elderly on the phone 30 minutes. Training is provided by the Silver Line programme and he encouraged Rotarians to become involved.
]SPEAKER  -  24 JULY 2014
 Tamla Anderson gave an interesting talk to the Club about her small business called "Splendid Reflections", which is based in Marylebone High Street and specialises in preserving memories and life stories.
Tamla will go to a person's home and conduct a live interview which is digitally recorded and then stored on a high quality DVD.  Some people have an ambition to write their memoires but never get around to it;  others do not have the dexterity to write a book or the confidence to take the plunge;  many assume that nobody would be interested anyway.  In fact, genealogy is the second most researched subject on line in the UK.  TV programmes like "Who Do You Think You Are?" and its imitators have generated a huge interest in family history. 
There is a growing body of evidence of the psychological benefit of knowing who you are and where you came from.  There is even evidence to suggest that nurses caring for elderly people will do so better if they know something about the people in their care.  So how should you go about preserving your memories? 
Tamla frequently comes across people who say: "Why would anyone be interested in me?  ."  In fact your family and friends will be fascinated to learn more about you.  When Tamla was starting out, she used her own father as a guinea-pig and was amazed by how much she didn't know about him.  Her approach is to speak to clients in some detail before putting them in front of a video camera.  She sends a list of questions in advance which are really a series of prompts to get her subjects talking.   She tries to be as unobtrusive as possible.  
She goes to a client's house with her video equipment and  the interview will last 3-4 hours.  When the interview is over, it is edited in a very professional way.  The final product is gift packaged so that it can be presented to family or friends with pride. 
  The most difficult part of setting up on her own was earning a reputation.  She got her message out into the market in a variety of ways, such as using her own and her contacts' address books, setting up a website, attending genealogy conferences, such as the one recently held in Brighton and,
 VIETNAMESE BBQ - 15 JULY 2014
 Tom and Katrina Lester hosted a wonderful  Vietnamese BBQ in their garden.
For those that missed it, this was a wonderful occasion in Tom and Katrina's lovely garden. They had cleverly  ordered  weather, ideal for one of those special warm evenings, where friends could relax.  There was marvellous food, wine and beer and a surprise cabaret with a first class musician and a guitarist. And to cap it all the event raised £641 for the Club's charitable work. (see Picture Gallery)
THE PRESIDENT'S NIGHT - 10 JUNE 2014
A glittering assembly of lovely ladies and dinner jacketed gentlemen gathered on the first floor of the Oriental club. We sipped drinks as we mingled with each other before entering the grand dining room. The walls of which were decorated with the portraits of builders of the British Empire. Candelabra stood in the centres of the round tables bedecked with immaculate glasses, china and cutlery. Kevin Coyne was master of ceremonies and invited Senior Past President David Leuw to say grace.
Kevin then played a trick on us by inviting John Bash to give the Loyal Toast before the meal, but John did it twice. Once before and one after. . President John gave a lively and informative address. During his address there were additional events including a presentation to PP Tim Raath of a wristwatch with a Rotary logo on the face. This was in recognition of the many years Tim had served as chair of Foundation and work for the club. There was also a bouquet from John to Margaret Pollock for supporting him during his year arranging this splendid evening.
---
Peter Schweiger presented President John with all the bulletins that had been produced to date during his year Anna Cocciadiferro from "Stitches in Time" presented President John with a photo of the ladies in their finery with him and Margaret on the steps at the Landmark Hotel. The evening concluded with Kevin Presenting bouquets to Jenny, the wife of the District Governor Elect, and Barbara Bash, who is the power pushing the President.
SPEAKER  31 May 2014
We were delighted to hear Richard Loat speaking on  'Disruptive Philanthropy'.
Richard, born in England, left for Canada at an early age and was brought up in a Rotary family.  He had a connection with the Rotary Club of West Vancouver through a Rotaract Club'
After Richard had completed his MBA in Vancouver he decided that he wanted to make a contribution by establishing what he believes is a unique way of raising donations for a charity' .Richard decided to start Five Hole for Food ; a non-profit organization aimed at raising food and awareness for food banks all over Canada, by playing a simple game of street hockey'.This charity, collects food for local food banks by encouraging people to play street hockey and donate food. As a result of these hockey games the charity had been able to pass to local food banks across the country over a quarter of a million kilograms of food. 'Footy for Food'
 In the UK , as the National game is football, the organisation is "Footy for Food". The charity gains consent from the local authorities to set up a five a side football game in  a downtown square. Then through social media and the local food banks it invites people to play football and make a (food) donation to the charity. Richard claimed that as the players actually got something for their donation, a game of football, their interaction with the charity and their experience of the charity was enhanced.
The charity claims that it has no overhead costs with all its volunteers (five in England) giving their time for free so all donations were able be passed straight through to the food banks for distribution.
There was discussion on whether or not the word  'disruptive' was good, as the speaker had claimed that his was a disruptive charity insofar as it had moved away from the conventional  method of fund raising. The consensus was that it depended on context!   This was an interesting talk by a talented young man who is achieving his mission of doing some good in the world.
SPEAKER 1 May
We had the honour  and pleasure of a visit from the Lord Mayor of Westminster.  Sarah Richardson is the youngest woman ever to be elected to the office of Lord  Mayor. She was elected to Westminster Council in 2002 and is a Member for Churchill Ward in Pimlico.
A former junior international fencer, Sarah worked as a journalist and commissioning editor on the Evening Standard as well as working for other daily newspapers and Vogue. She now works as a strategic consultant for Edelman, the world's largest public relations company.
Sarah is married to an MP and has two young children.As the daughter of a Rotarian, Sarah sees both Rotary and Public Office as an opportunity to serve (after time spent earning and learning). She thanked the Rotary Club of St Marylebone for their continued support forthe Pimlico Puffins.
Sarah has been deeply involved with children's services during her 12 years as Councillor, introducing the Family Recovery Programme which aims to strengthen families formerly trapped by problems such asunemployment, ill health and domestic violence. She commented on the diversity of life in Westminster which gave afurther dimension to her work. There are links with numerous communities given that Westminster has 140 foreign embassies, and 100 different languages are spoken. Sarah was recently invited to Oslo(together with her children) to cut the Christmas Tree for Trafalgar Square which has been presented each year since 1947 by the people of Norway as their appreciation for British help during the Second World War.
Sarah also spoke of links with the faith communities in Westminster, andmentioned the Kristallnacht anniversary service held at Westminster Abbey which was attended by a large Jewish congregation. As well as links with the armed services, there are also strong international business connections in Westminster with a creative hub.Sarah also mentioned the involvement with community residents in terms of libraries and schools, whilst "Silver Sunday" provides dance or exercise and activity classes for the elderly.   Sarah's chosen charity isThe Sir Simon Milton Foundation. As the former leader of Westminster City Council, Sir Simon Milton's vision was to create a caring city offering opportunities for all. Sarah wants to continue this good work and build on his legacy. To date more than £100,000 has been raised for this charity.  The Club presented her with a cheque for the Charity

SPEAKER 27 MARCH
We were very honoured by the  presence of the Reverend Canon Stephen Evans today because he had turned down an invitation to meet the Duke of Kent in order to
be with us this afternoon. The Reverend Canon Stephen Evans had exchanged a promising career in the Royal Navy to join the priesthood, and was ordained in 1986 at Inverness Cathedral after completing his theology degree at Oxford. Together with his wife and daughter, he swapped his position in rural Rutland (the smallest county in England with only 32,000 population) some 3 to 4 years ago to move to St Marylebone and live in a terraced house with no garden in the sprawling metropolis of London. In fact he took a pay cut as well, but has no regrets as he stated that he now had "the best job in the Church of England". Our former member Frank Coventry had also felt that, and held the record for turning down transfers in the Church of England. Although smaller than its original jurisdiction, St Marylebone now
comprises 9 separate parishes and covers a wide area of Central London extending from the edge of Maida Vale to Oxford Street.
 St Marylebone School has over 1,000 pupils and achieves very good academic results, whilst a newly established GP service has in excess of 9,000 patients. Meanwhile, St Marylebone Church has a famous choir.  Rotaract has recently been working closely with the children from St Marylebone Church on boat building projects. St Marylebone Church is active in the community and hosts art exhibitions.
 The Reverend Canon Stephen Evans also encourages inter-faith dialogue within the community of St Marylebone. And so to the title of the talk. The Reverend Canon Stephen Evans was visiting The Natural Kitchen delicatessen in Marylebone High Street when he came upon a very distraught French women outside who was crying into her mobile phone. "What is the matter, Madame ?" he gently enquired in his best French accent. "I'm so upset" the women replied "there are no fresh truffles in Marylebone !".
 A lively Q & A session followed with Noordin Kassam asked more about the initiative promoting inter-faith dialogue. The Reverend Canon Stephen Evans said that this was working for the most part with active participation from the local synagogues but it had proved difficult to engage with the Muslim faith even though such meetings were held at the Central London mosque. PDG Clive Amos asked about the grave of Charles Wesley, one of the founding fathers of Methodism. In 2005 excavation works to St Marylebone School adjacent to St Marylebone Church led to the original graveyard being dug up as the school was built above the graves - these graves were subsequently moved to Plaistow Cemetery in East London. Christopher  
Hamel-Cooke was in charge when the crypt was rebuilt to form the Health and  ealing centre. However, the bodies of Charles Wesley and his wife and daughter were exhumed and reburied in their original graves behind St Marylebone Church.
PUBLIC RELATIONS BOOST
The London Business School, who co-operated over the service road clean-up last year, are using a photo of Rotarians and their staff and students in their new recruitment brochure.  This should give our Club and Rotary generally a PR boost.
INTERNATIONAL WOMEN'S DAY

On 6 March the Club celebrated International Women's Day at our  lunch with a special speaker. 
Sonja Curtis a member of the Bromley Club (where they have more women than men!) came to speak about nursing in the First World War. How many people have heard of VAD or know what those initials stand for? Well, the story began in 1854 during the Crimean War, when Florence Nightingale took 36 voluntary nurses (whom she had trained) to Scutari to care for wounded soldiers. 35 years later, in 1889, the first Boer War broke out.  
Women from all around the Empire volunteered as nurses. All paid their own way and some got together with the Red Cross and the Order of St. John to arrange hospital ships and trains with supplies. The war made the government realise that the needs of an army at war were very different from those of a standing army in peace time. The difficulty was the cost, which included the cost of holding nurses on standby in peace time. The solution was the New Territorial Scheme, which was designed to bring the army and the voluntary services together. For nursing, the result was the Voluntary Aid Detachment (VAD), which came into being in 1909.
Strict guidelines were drawn up. Each unit had to have a doctor, a commandant, 2 nurses and 22 ladies. Units were formed all around the country, and would meet in schools, village halls, private homes or wherever space could be found. The volunteers were given training in bandaging, cleaning, washing patients, driving ambulances and much else.  Often, the volunteers were from the aristocracy and the middle classes, who could afford the time and the costs, such as of providing uniforms (nurses attached to military units were given an allowance of £20 a year  but otherwise volunteers received no pay or allowances). When the First World War broke out, a shortage of professional nurses quickly developed and the authorities turned to the VAD. Emergency hospitals sprung up all over the country and many volunteers went overseas, serving in such places as Egypt, Malta and Salonika, as well as on the Western Front. The relationship between the VADs and the professional nurses was sometimes strained, with each criticising the other. On one occasion, a nursing trade union sent a message to matrons and nurses imploring them to stop bullying the VADs. The VADs nevertheless did a wonderful job, which came to be recognised by all.
Sonja wound up her fascinating talk with a few words about the Cavendish Club and the Nursing Memorial Appeal. The Cavendish Club was originally called the VAD Ladies Club and was founded by Lady Ampthill in 1920. Its premises were located in Cavendish Square until 1956 they moved to the current premises in New Cumberland Place and re-named it the New Cavendish Club. . The Nursing Memorial Appeal is an appeal to provide a permanent memorial to nurses who gave their lives in two world wars. Sonja said it was a disgrace that,  unlike the Canadians and the Australians, we do not have a nursing memorial in the UK. The proposed memorial will be located at the National Arboretum. As part of the appeal, a play about war-time nursing was commissioned and was first performed in the New Cavendish Club with a number of well-known names in attendance, including Julian Fellowes. The play is on tour and has been performed at Chartwell, the home of Sir Winston Churchill, where it was sponsored by his grandson, Randolph. Sonja completed her talk with a short film which summarised some of the
ROAD SAFETY
On 6 March The Rotary Club of St Marylebone distributed, free of charge, high visibility tabards at Marylebone Station in the afternoon of 6 March.  These tabards, embalzoned with our Rotary logo will help cyclists improve their visibility in the dark..
The station authorities cooperated with the Club by providing space at the front of the station.  All the tabards were distributed.

                                    Rotary Volunteers at Marylebone Station
Rotary Club of St Marylebone Features in Video Launch at Landmark London Hotel - click on the picture below to start the video.

TO SEE VIDEO GO TO LINK ON LEFT
 Recent Article in "Rotary in London"
 PROJECTS
One of our Projects,  for this year supporting the Church StreetArea, is with The Fourth Feathers Youth Club, and offers young people workshops with initial training in sewing and design, as part of Fourth Feathers' summer programme. The children performed brilliantly using sewing machines and made garments and bags;  photos of these will be available later in an exhibition to be shown in local venues.
On Friday 16 August at the Fourth Feathers, Club President John Bash presented Certificates to those children completing the course.
AWARDS
At the recent  District Council Meeting Immediate Past President Margaret Pollock had  received TWO awards on behalf of the club:
The Peace through Service Citation and The RI Significant Achievement Award. This is given to one club in each District for their community service.
These were marvellous achievements in her
presidential year.
Speaker 31 October 2013
John Wilson from the American School in London who has been a friend of the club for many years gave his personal view of
 the Viet Nam war.
The war began with the Gulf of Tonkin resolution on 04/08/64 which gave the president carte blanche to do whatever he thought necessary. Ostensibly this was a  response to an attack by the North Vietnamese on an American destroyer. However it has been established that this destroyer was aiding the South Vietnamese. Thus began what John called in retrospect the greatest US policy disaster of the last century.
John who was training to be a naval officer at that time then gave his views as to how this came about.The historical perspective was that World War 2 was considered a "good" war by the Americans. They had helped to rebuild Europe and Japan and were leading the anti-communist movement. The Military were respected and it was felt that if earlier action had been taken the scale of WW2 would have been reduced. The US generals did not realise that the Viet Nam war would be completely different.
For example: - the enemy had no uniform.
-their main weapons were booby traps and snipers. Some soldiers never saw  the enemy.
-the use of artillery and bombing causing civilian casualties alienated support locally and at home.
- The resourcefulness of the enemy in recycling US equipment.
- The VC strategy was to prolong the war as long as they could and let the US wear itself out.
 John was not very complimentary about the senior officers. The junior ranks soon realised the US could not win the war. He said his only near death experience was caused by the incompetence of his commander rather than the enemy. Apparently this was a common occurrence.
John did two tours of duty. When he returned home in 1967 the feeling was that the war was going well. This changed in 1968 after the Tet offensive and the US forces were increasingly blamed both by the right for not fighting hard enough and by the left for being there in the first place. These feelings caused severe problems for the veterans many of whom were very young and from a low socio-economic background. There were a disproportionate number of black servicemen.  Many had their lives ruined (or terminated) and were unable to readjust to civilian life. The resentment towards them meant that the war became a taboo subject - many did not mention the war on their CV.
 John ended by quoting a leaked document from 1954 when the chief-of-staff strongly advised against involvement in the French Indo-china war. In the discussion  
David Leuw proposed the vote of thanks to John who had given one of the best
Speaker 10 October 2013
Lesley Lear is the chair of a support group for the charity Hope and Homes for Children. The founder was Mark Cook who experienced the plight of orphans while a soldier in Sarajevo. He went back after the war and managed to rebuild the orphanage. When the shocking state of orphans in Romania was revealed he resolved to work to get the children out of the orphanages and re-integrated into society by foster parents or re-uniting with their families. An important part of this is helping the family with advice about becoming self-supporting
by teaching life skills. They also help people with disability and  unmarried mothers to overcome the prejudices prevalent in some parts of the world. Their motto is to listen to the needs of each child.
This model has been used by UNESCO and there are similar projects in Sub- Saharan Africa, Rwanda, Russia and Sudan and she gave an example of the success of one orphan family who were enabled to start school and become self-sufficient.
 She thanked Rotary for their support.
 Speaker 3 October 2013
The guest speaker at the meeting was Godfrey Gould who  had been born in Newcastle and had lived in Durham, London and Sussex, with the past 50 years having been spent in Hove.
After teaching for some years, his career was principally in Human Resources. His hobbies include music, theatre, good food and wine, travel (he has travelled to some 50 countries) and transport. His interest in transport covers all modes of transport but his real passion is for railways. It was appropriate, therefore, that the subject of his talk should be Marylebone Station.
Godfrey began his talk by reading two descriptions of the station. The first was from the comic novel "England, Their England" (1933) by A.G. Macdonell, which is still famed for its portrayal of English village cricket. The second was from "London's Termini" (1969), a non-fictional work by Alan A Jackson. Both noted its air of romance and how quiet it was. It was first opened in 1898. Given that North London was already well served by Paddington, Euston, King's Cross and St. Pancreas, the first question is why it was built at all. The answer lay in one man, Sir Edward Watkin, who was a railway entrepreneur and visionary. His interest in railways began in 1848 when he became secretary of the Trent Valley Railway. He worked for various railways, eventually becoming the general manager of the Manchester, Sheffield and Lincolnshire Railway, which he later re-named the Great Central Railway. During the course of his career, he had helped to build railways in Canada, Greece and the Belgian Congo. In England, he was responsible for building the Great Central Main Line, which linked Sheffield with London via Leicester and which was the last purpose built, high speed line into London before HS1 (the Eurostar line) was opened in 2007. At one point, he was chairman on no less than nine  railway companies, all of which were major enterprises, and a director of many more including, significantly, Chemin de Fer du Nord, the French railway company which was based in Calais. This meant that he controlled railways from the industrial cities of the North, through the Midlands, into London and down to the Channel ports.
His grand scheme was to run passenger trains from Liverpool and Manchester to
Paris, via London, Dover and Calais. This required a channel tunnel and one was
actually commenced at Shakespeare Cliff between Folkstone and Dover and reached 2,020 yards before it was cancelled by Parliament following a security scare
(apparently, the French might use it to invade England!). The scheme assumed that Baker Street station would be the main terminus in London but Watkin lost control of the Metropolitan Railway (which recently celebrated its 150th anniversary)
and then refused to allow him to use Baker Street. The only alternative was to build his own which he did, naming it Marylebone Station. It was a very expensive
undertaking requiring tunnelling under Lords Cricket ground at St.John's Wood, and the station was never a financial success. Nor did it have great architectural merit, being described by John Betjeman as a domestic version of "Wrenaissance",  whatever that might be. In his book "London's Termini", Alan Jackson predicted that the station was not likely to last much longer. By then, its shunting yards had been
sold off for building and traffic was declining. In 1986, proposals were drawn up to convert it into a coach station. In fact, it was saved by this fate by two chairmen of British Rail, both ironically called Robert Reid. Now it is busier than ever, having been spruced up with an £88 million refurbishment
Sunday, 7 July 2013:
More than 30 members and guests had accepted President John's invitation to the lunchtime party held in glorious sunshine on the balcony of the Almshouses, Crawford Place. During the lunch, Paul Daly reminded those present that some of the Club's projects over the last couple of years had been to help with the refurbishment of the communal lounge,  bed room, bath room and kitchen as well as with the canopy beneath which we sweltered during the lunch. Also, the Club had bought the new secure front door that, we had been warned in advance, was open only during very specific times.
David Leuw expressed the Club's gratitude to President John and Barbara for their most generous hospitality.     
2 May 2013
Speaker
Benedicta Bywater from Safe Haven Children's Trust had previously spoken to our Club in 2012, and she was making a return visit in order to update us on progress on their various projects.
The charity was founded in 2009 after Benedicta had travelled to Cambodia where she had discovered the hardships suffered by young children in orphanages who were being financially exploited by corrupt individuals and crime organisations for their own economic ends – monies given by tourists, visitors and other well-wishers was often misappropriated.  Many families were too poor to provide for their own children, and this led to an increase in begging and child neglect with disease being rife and malnutrition widespread.
Benedicta set up Safe Haven Children's Trust, which is a UK registered charity, in order to protect Cambodian children and monies generated from fundraising activities - it has also registered as a non-governmental organisation (NGO) in Cambodia and has received recognition from UNICEF.
The charity specialises in early development years for Cambodian children up to the age of 5, and seeks to provide a cheaper alternative to expensive nannies and orphanages which few can afford.  It has five objects:-
1)  Providing day care centres where children are better fed, and stimulates better parenting.
2)  Operating residential programmes for abandoned children so that they may be rehabilitated and reunited with their families.
3)  Working for the prevention of abandonment.
4)  Running parent support workshops.
5)  Running crisis care courses together with the Cambodian authorities to reduce the risk of abuse, neglect and child trafficking  - this is the project supported by the Rotary Club of St Marylebone, and is the most successful project to date.  Five children have been successfully re-integrated back with their families since the project started (four since her visit to St Marylebone last year), and a further six are due within the next six weeks.  Safe Haven aims for a ratio of one nanny for every two children, and this has helped to accelerate the rehabilitation process.
In addition, Safe Haven has started two new projects :-
1) Cambodian Social Enterprise, which helps working mothers develop their home based crafts trade so that they are better able to afford to keep their children
2) Twinning schools in the UK with Cambodian counterparts so that we become more familiar with Cambodian culture
Benedicta concluded by stating that Safe Haven not only changed lives, but also saved lives.
The vote of thanks on behalf of the Club was given by President-Elect John Bash, who said that Safe Haven had made a difference to the children and future of Cambodia, and that Save Havens was an organisation that he proposed supporting again in his forthcoming Presidential Year.
15 April 2013
On 15 April Fellows were privileged to be present at a musical soirée at the elegant home of Michael Conroy, a good friend of the Club. We were entertained to a virtuoso performance at the piano by Sarah Beth Briggs, who has played with the major British orchestras, and is renowned not only for her performances but also for her engaging and informative introductions to her recitals. She played pieces by Beethoven, Hayden, Britten and Debussy, and the introduction to each added to our enjoyment.
We here then treated to a delicious buffet meal and good wine, the latter provided by Michael.   It was  wonderful and memorable evening.
5 April 2013
On 5 April the last of the Club's projects in the Church Street area,  in partnership with the Landmark Hotel, was completed.  This was the planting of two Cherry trees, by representatives of our Club and the Landmark Hotel, on the Fisherton and Lisson Green Estates.  The children of the area took part in the planting. Afterwards there were refreshments at the nearby Community Centre – see Picture Gallery
 7 February 2013
The Club celebrated International Women's Day
President Margaret said that the month ofMarch is special to women around the world since it includes 8 March, now designated as International Women's Day.  The first national Women's Day was observed on 28 February 1909 in the USA following a declaration by the Socialist Party of America.  Other countries followed with a strategy to promote equal rights including suffrage for women.  International Women's Day was first observed after 1977 when the UN General Assembly invited member states to proclaim 8 March as UN day for women's rights and world peace.
To mark the day President Margaret had invited Janice Raath to write a poem, which she read in Janice's absence:
What is a woman?
She is certainly different from a man.
She is everything to everyone
Well, I know that I am.
She is as strong as any man
Stronger than you know
The backbone of her family
Who nurtures, watches her family grow.
We women know where we are going
We know our rightful place
It's up there, alongside you men
Doing good for the human race.
This global sisterhood of ours
Crosses barriers both far and near
We deal with every single emotion
Happiness, sadness, even fear.
As we tread along life's path
And whatever may befall
We women remain united
And together we stand tall.
28 February 2013
Harpist
Kevin Coyne introduced Catherine Derrick from the Royal Academy of Music, the recipient of the Clubs Annual music scholarship. Her musical instrument is the harp. He also introduced Amanda Carlyle from the Academy's development office, who accompanied Catherine today. It took the two women to negotiate the amazingly big single-action pedal harp and its trolley into and out of a very large taxi and into the Marylebone Hotel. (We later learned that this was by no means a 'large' harp, but merely the only one that would fit into the taxi. It belongs to the Academy; Catherine's is at home.) 
Catherine hails from Manchester. She started playing the harp at age 7 when she and other aspiring music students were taken into a room filled with musical instruments. She saw a harp in a corner of the room, and felt an immediate attraction to it. Catherine's talent was soon made evident today, as she filled our dining room with exquisite sounds of composers from Bach to Benjamin Britten. When she had finished her 'recital', President Margaret opened the floor to questions. Catherine was asked how she was able to read music while straddling her instrument and concentrating on both the strings and the pedals. She said that it was very difficult, and she had to learn how to 'sight read' her music, which means memorizing it. She was asked if she had coverings for the tips of her fingers, to protect them from bruising. She said that coverings were not necessary, and that calluses formed naturally on her fingers after extended practice.
16 February 2013
Valentine's Dinner
 The Club had a very successful event on 16 February. There were about 30 people there including Eve Conway-Ghazi, our District Governor and wife of Robert. President Margaret had devised the Valentine dinner which was the first ever to be held by St Marylebone Rotary club. She asked "What is love?" Love was the most searched word on Google last year.  
Margaret began by reading Robert Burns' "My Love is Like a Red Red Rose", followed by Neville Brick with another Burns' love poem.  After Grace, said by Canon John Record, we had a marvellous three course dinner with wine.  The fellowship was great and the evening was completed by six further 'Love' poetry readings, by John Bash, Peter Schweiger, Dedie Sanderson, Keith Stuart-Smith, DG Eve, Kevin Coyne and Jin Murphy.
21 February 2013 - Speaker - Major Nigel Schultz of the Salvation Army
Our Club had connections with the SA as our Immediate Past President is a member, and two other Past Presidents, David Drake and Alan Burns, had been members.
Major Schultz talked about "peace" and his work in the Salvation Army. He began by asking "what is peace" and he described what it has meant to him during his 27 years working for the SA. He is a minister who preaches regularly on Sundays and gave several interesting observations about the perceptions of peace. He said that the people of Iraq lived in a kind of peace under the rule of a brutal tyrant. Western forces have tried to impose peace but it hasn't worked. He said that people really don't know what peace is. He related a story about his visit to Canterbury Cathedral where he went to the crypt to meditate and was challenged by a person questioning why he was there. He asked how do we achieve peace? The founder of the Salvation Army, William Booth founded the organisation to fight for peace. He said it can sometimes be quite a struggle due to restrictions from politics, finances and benefits. He reported that in Barking he sees at least 10 needy people per week. It is a struggle, but a necessary one to "fight for Peace" for those who need it. Major Schultz then took questions from the floor.
Cutting the Ribbon for the Landmark Hotel Tree of Wishes
On Tuesday 4 December an audience of Rotarians, members of the Landmark Hotel's senior staff and representatives from the Church Street projects we support assembled at the Landmark Hotel where the Tree of wishes had been erected.  The tree, at the focal point of the Hotel, will encourage hotel guests to donate to the Hotel and our Club to benefit the projects.  A scroll by the tree sets out the projects we are supporting.  President Margaret spoke about our partnership with the hotel. She then introduced Tilly, aged 4 from Newpin, and thanked her for her beautiful drawing of a Christmas Tree. This has been printed on a card that has been put in every hotel bedroom bearing a note encouraging hotel guests to contribute. Tilly, in the presence of Father Christmas, then cut the ribbon to inaugurate the Landmark Hotel's Tree of Wishes.
We then adjourned to the Hotel's Drawing Room for wine and nibbles, where were entertained by an orchestra from King Solomon Academy, who played Christmas Carols.  This was a most enjoyable evening with good fellowship.
(See Picture Gallery)
Speaker 29 November 2012
Our speaker was Katie Aitkin from "Stitches in Time" one of our projects.  Paul's wife had visited a couple of times and judged Katie to be an excellent and inspirational teacher.  Katie referred to her training in the arts and textiles and had worked with schools and all manner of community groups, and how they enable groups of different cultural backgrounds to work together.
Katie showed us slides of work done with the Portman Early Childhood Centre including an embroidered throne and crown jewels, and quilts based on children's stories.  The groups of adult women also practise and improve their English.  Meeting President Margaret gave them a great opportunity to work with the centre. 
The Portman Centre took a group to the seaside with funding from the Portman Foundation where they gathered shells.  Back home they drew them and then made an embroidery.  The women became budding artists.  They were so keen, they took work home to complete. They also tried silk painting and marbling.  Even when the course was finished they have continued to meet on their own, where they make work which can be sold. (President Margaret is negotiating with Church Street market traders to see if they can help.) The group feel a great sense of achievement and have created a support network.  They were very motivated as the hanging will be displayed in the Arch Hotel. There will be a scroll at the side about the project and the support given by our Club. Katie displayed the hanging, which Fellows found to be wonderfully made and a beautiful object. The words at the bottom of the panel read:
" Stitches in Time with parents from the Portman Early Centre 2012
The Rotary Club of St Marylebone supported by the Arch Hotel"
Speaker 22 November 2012
 Sarah Malling from the charity Stroke Awareness. talked about what the Stroke awareness charity does which includes campaigning for funds. It was pointed out that our Club has already donated to the charity. Sarah explained that she started working for Stroke Awareness after her sister's partner had a stroke at 25 and she wanted to get involved in finding out more about strokes.
Strokes are the 3rd biggest killers in the UK with over 150,000 people having strokes each year. It is the leading cause of disability in the UK. A stroke is essential a "brain attack" that comes in different forms. We should all know how to recognise and deal with someone who is having a stroke. A quick guide is the term FAST: Face drooping, Arm numbness, Speech problems and Time of response. Of all the people that have strokes one third die and one third are seriously disabled by paralysis; the remaining third recover.
Sarah read a very interesting case study of someone who had a stroke, recovered and now works for stroke awareness.
Sarah mentioned risk factors:
Those we can't do anything about:
Age
Gender   - Men are more at risk,
Family History
Ethnicity
Those we can do something about:
 Smoking
Binge drinking
Blood pressure
Stress
There are also Medical stroke risk factors which include:
Previous stroke, previous episode of TIA (or mini stroke), high cholesterol, high blood pressure, heart disease, atrial fibrillation and carotid artery disease. These risk factors can be controlled and managed with the help of a healthcare professional.
Sarah explained that they are the only charity that supports stroke survival through four main areas:
1. Awareness development   - helpline and talks
2. Research
3. Campaigns
4. Services to help stroke survivors
Sarah was thanked for an interesting and informative talk.
Speaker - 8 November 2012
Our speaker was Tony Lennon, Past President of BECTU the Union at the BBC, where he had worked as an engineer for over 30 years. 
He came to discuss what trade unions do in the modern world. He was keen to dispel the image of trade unions as industrial wreckers made up of what Harold Wilson once described as "politically motivated men in smoked-filled rooms".  He told us that things are very different now. Most union reps are volunteers who do union work in their spare time.  If you were to ask a rep what motivated him, he would say that he or she wants to promote fairness, justice and equality but his overriding motivation is to help others.  Much of a rep's time is taken up in helping union members when things go wrong, such as when a member faces disciplinary action.  Curiously, pay and conditions come low down in the list of priorities.
Of course, pay bargaining is part of a rep's work.  There is an expectation of periodic changes in pay and pay structures and a union provides a collective voice for its members, but in practice far less time is spent on bargaining that on pastoral work.  Nowadays, unions work with employers as well as for employees.  It is much easier for employers to negotiate with a union on behalf of its members than with individual employees. In times of change, when companies (particularly the large Corporates) have to shed jobs, cut costs and change terms and conditions of employment, they find it useful to work through the unions.  Once agreement is secured, it is more likely to stick:" a deal is a deal", at least until the next round of bargaining.
Strikes are now rare.  Unions do not contemplate strike action except as a last resort when all else has failed.  From Tony's own experience, strikes are very unpleasant.  They lead to rancour in the workplace which can last long after a strike come to an end and can actually threaten jobs.  This year, there was a spike in the number of strikes because of the public sector strikes over pension reform, but in 2011 the number of days lost in strikes was the lowest for 40 years. 
Another area where unions are prominent is health and safety.  Although health and safety does not have a very good press, there has been a huge improvement over the past 30 or so years.  In 1974, when the Health and Safety at Work Act came into force, there were 1200 deaths at work.  In 2009, it was 142, which is still too high, but nevertheless represents nearly 10% of the 1974 figure. 
Finally, Tony discussed the relationship between the unions and the Labour Party.  Once again, he was keen to dispel myths:  the unions do not run the Labour Party!  Labour is keen to have union money, but it's very much a case of "don't tell us what to do".  There have been many changes in the rules and procedures which have diminished the role of unions in Labour's affairs.  The election of Ed Miliband as leader of the Party was attributed to the support of the unions, but in fact party elections are now determined by an electoral college, similar to the one which determined the outcome of the recent US presidential election.  The unions have only a few votes in the college, equivalent to the number wielded by the State of Ohio in the US
Visit of DG  25 October 2012
David Leuw introduced our speaker DG Eve Conway-Ghazi, who he said had breached the 'glass ceiling'. She had been a BBC producer, and before that had been an Ambassadorial Scholar.  She was a great supporter of 'End Polio Now', and was married to one of our members, Robert Ghazi. President Margaret referred to the Rotary Manual where the DG had a duty to visit all the Clubs in her area, without any special performance to see Clubs as they are.  Eve was the first woman DG in London.
DG Eve said she was delighted to be with us, as we were so much involved in the community and were an example to other Rotary Clubs as we were making a difference to the community in Church Street. She was impressed with the way we had linked with the Landmark Hotel, as Rotary needs to link to Business, as although many companies have a social responsibility programme, Rotary can help them as we have community links. She felt we had wonderful projects, and recalled being present at the minibus hand-over.
 She was grateful to the members of the Club on the District team, Nick Damji, Tim Raath, Mike Stonham and Robert Ghazi.  She referred to London 2012 and hoped the atmosphere could continue.  She was part of the opening and closing ceremonies for the Paralympics, and Robert Ghazi and Kevin Coyne were both Gamesmakers.  York Gate had been opened up for visiting Rotarians at the Olympics and there had been two receptions one attended by the Jamaican Gold Medallist for Javelin, Alphonso Cunningham.
 The Jamaica Paralympic Team also came; they were polio sufferers and they had competed in their wheelchairs. They said they simply had be there because of the work that Rotary has done to rid the world of polio and they wanted to pay tribute to Rotarians.  He said Rotary had also helped them in their long journey to be able to compete in the Paralympics.
Eve said we should be ready to talk to people about Rotary's achievement in the fight against polio.  There were now only three countries left: Pakistan, Afghanistan and Nigeria. We are now "this close" to winning. She mentioned the polio campaign poster on the Tube which had been seen by millions, and the lighting up of the Tower of London. She told Fellows that on 23 February 2013, Rotary Day there would be a Global Swimathon to "link up with the world"
 This year we are concerned with Membership and the three Ps – Polio, PR ( to get our image across) and Peace through Service.
 Several Fellows who had been to Conference at Hayling Island said it was one of the best conferences ever.
 David Leuw gave the Vote of Thanks for a very special address, saying today was exceptional and we were fortunate to have such a warm and talented DG.
Speaker 11 October 2012
Our speaker was Alexander McLean from the African Prisons Project.
Alexander told us he was inspired to establish the charity following a gap year spent in Africa. In 2007 he won the Beacon Prize for Young Philanthropist of 2007 and was also the overall winner and has gained high profile support in trying to make life in African prisons more bearable.   Alexander showed a slide show of some of the atrocious condition prisoners sometime face after receiving  sometimes totally unjust long prison sentences or even the death penalty.   In general, the conditions in African prisons are painfully poor. Many are severely overcrowded, lack sanitation and are unable to provide adequate nutrition. Access to books and education is limited or non-existent. Medical facilities are wholly inadequate.
The African Prisons Project exists because they believe there is a need to recognise the inherent worth of every human being.
They work in a continent where physical punishment and the death penalty are still widespread and where for many people a prison sentence means hard labour. They serve countries with police forces and prisons services which are often underfunded and undertrained: countries where many people are in prison for being vagabonds or vagrants, debtors or loiterers, criminal lunatics or lunatic criminals; countries where the death penalty is given for witchcraft or procuring an abortion, mutiny, treason and cowardice.
Almost all the prisoners they serve have never met a lawyer. Many wait in prison for years, even decades before going to court and in many countries more than two thirds of prisoners have not been convicted of an offence.
Prisoners reside in prisons which were often built many decades ago and are now several times above capacity. Some die from suffocation resulting from staying in overcrowded cells, sometimes with too little space for everyone to sit down at the same time, usually without sanitation, others from malnutrition. Babies and children born to women in prison often die during childbirth and infancy due to lack of access to medical facilities.
But it does not have to be this way. The African Prisons Project provides models for a human rights, rehabilitative approach to imprisonment which can be replicated by financially limited prisons services. They show that another way is possible! Relatively small donations can go far in alleviating some of the injustice prisoners in some parts of Africa face. (More information is available from  info@africanprisons.org.)
64th Anniversary Lecture 29 September 2012
We met at the Howard de Walden Suite in The Marylebone Hotel at 7.00 where we had drinks and began a good evening of fellowship.  At 8.00 we moved into the large room, that had been set with large tables, for the lecture where President Margaret Pollock welcomed AGs Mac Purcell and Chris Wyatt, and fellows from the Rotary Clubs of Paddington, London, Putney, Westminster West, Westminster East, Kensington, Battersea Park, Pall Mall and Tower Hamlets, and also other guests to the Club's 64th Anniversary of its Charter – 20 September 1948, when our Charter was presented at the Savoy Hotel.  The roots are deeper, as in 1924 the RC of Paddington and St Marylebone was formed and this separation in 1948  was taken with regret but in the best interests of Rotary extension. Margaret mentioned our banner which uses the arms of the former Metropolitan Borough of St Marylebone.
She then referred to the message from Sakuji Tanaka, RI President 2012-2013 – "Peace through Service", and said how appropriate it was to have Conor Fortune, a Rotary World Peace Fellow, to be our guest speaker. She introduced Conor, a journalist devoted to conflict resolution and human rights.  In 2002 he was chosen as a member of the inaugural class of Rotary World Peace Fellows and completed his MA in International Relations in the Argentine. Conor is now a journalist working with Amnesty International.
Conor gave us a slide presentation.  He told us he was born in Ireland in 'the troubles', and then emigrated to New York where at University he became involved with the problems of Spanish speaking immigrant communities, which led to an interest in human rights in Latin America.  He heard about Rotary through a room-mate whilst he was in Madrid studying Spanish. The Rotary World Peace Fellowships were just starting; the idea was first mooted in the mid 1990s and was officially launched at the UN in 2002.   Conor applied and after a stiff application process he was accepted in late 2001.
The programme is run at Rotary Peace Centres at seven universities throughout the world – we have one at Bradford University; there are none in Africa or the Middle-East..  Connor was based in Buenos Aires' Universidad del Salvador. There the course had students from 15 countries, and was very diverse in culture and backgrounds:  there were economists, health professionals, journalists, academics, military and those with political experience.  Conor explained the courses he had taken, which included a War Game simulation with the Argentine Navy and Peace Keeping courses.  Because of Rotary, he had contacts with high government agencies and national embassies.
There were also extra curricular activities, including helping NGOs and running Soup Kitchens.   He also visited schools to encourage Argentina's youth into community service. Part of the course was to go out 'into the field' for example in Costa Rica and Guatemala helping to run a radio station broadcasting on human rights and social justice issues, and mediation in Bosnia.
His Master's thesis related to Indigenous land rights in NW Argentina. Conor graduated in December 2004 One of the important outcomes for Conor was the network of contacts dealing with conflicts worldwide. There have been three Peace Symposiums which have been timed to coincide with RI Conventions, the most recent this year in Bangkok.
There are over 600 alumni:  over one third work in NGOs and about one fifth in government; about a quarter each are in North America and Asia, 14% in Europe, 11% in Africa, but only 4% in the Middle East. In 2015 there will be a major gift initiative to secure 95m US Dollars to endow the programme permanently.  Throughout the presentation there was a theme "Peace is Possible".
The Core Trust Garden Party
The Garden Party in Lisson Grove on Wednesday 4 July  was opened by President Margaret who had also opened the new kitchen, provided by funds from our Club and the Landmark Hotel. John Bash said he was impressed by the dedication of the staff and volunteers and by the warmth shown by them and the clients. Keith and Ruth Stuart-Smith also attended.
Speaker - 31 May 2012
We were fortunate to have as our speaker Ceri Thomas, who is the editor of the Today programme on BBC radio 4. He said he first heard about Rotary when he went to the USA to research a programme about service clubs and how they worked in their communities. He preferred questions to just giving a straight talk. We learnt that the Today programme started in 1957, is one of the longest running, but has changed over time. There were well known presenters then such as Jack de Manio and Brian Redhead. Ceri started 20years ago.

He went on to describe how the timetable for the programme works. Presenters arrive at 4 a.m.! The night editor starts at 8 p.m. the night before and starts planning for the next morning at 11 30 p.m. There are continuous updates and although it is all planned there has to be flexibility. Sometimes the interviews literally depend on how punctually or otherwise taxi journeys are. There are 30 in the team and most are in their mid 30's working anti social hours for an audience that are mostly in their mid 50's: this has been pretty typical for all the years the programme has been running. Now there are 7 million listeners each day. People define themselves as "Radio 4 types", which does not happen for television stations, and the programme has a very high reputation. This is due to it being the BBC, involving the government, business, religions and other sections of the community. Spin doctors from political parties call daily.

Ceri felt that it was important to keep the age group the programme appealed most to  - those in their 50's - and was pleased with the current group of presenters, including John Humphries.

Questions did come thick and fast so that we had to break when the food was served.

Ceri was asked how news came to the programme and then how do they pick on what to focus on. They use news agencies, such as PA,Reuters etc. There are six reporters who also have their contacts and also surprisingly, Twitter, which is mostly junk but occasionally can lead to a scoop. They then try and pick out what the audience will be interested in.

One member found the programme less appealing because he felt presenters spoke too much and seemed aggressive. Ceri said that interviews have got longer because people took longer to answer questions by being evasive. There had been a shift to more scientific issues

Asked about what checks and balances were there to keep impartiality. Ceri pointed out that it was hard to show a range of answers, but it was gained by experience and perceived wisdom. Sometimes the strong public feelings about subjects like Europe or mass immigration had been missed at the start.
Ceri received a sincere vote of thanks for really enlightening talk.
Speaker - 5 April 2012
On 5 April Stephen Winningham, promoting "Business in the Community", addressed the Club.
Stephen comes from the USA, but actually grew up in Croydon!  He has worked in investment banking services for more than 30 years, and specialises in financing and Mergers & Acquisitions activities.  Stephen currently works for Houlihan Lokey where he is Managing Director and Co-Head of European Corporate Finance. Previously Stephen worked for Lloyds TSB, whom he joined in 2007 at the start of the credit crunch.
Stephen met Margaret Pollock in the Church Street ward, where he was working on outreach projects to improve the local community and discovered that the objectives for better health and education shared much in common with Rotary.
"Business in the Community" is an initiative involving more than 800 companies across the UK which has launched a "connectors programme" – companies such as Lloyds TSB, BT, Greggs the Bakers (of pasty fame !) contribute not just money but, as importantly, assign employees to local communities to share their experience, know-how, etc with the aim of improving the quality of life in these poor areas which have high levels of stress and often suffer from a lack of opportunity.
Stephen has done outreach work in other North Paddington areas of Queens Park and Harrow Road.  The idea is to go into these communities and better understand the local needs so that these can then be matched with local businesses which also have social responsibilities.  It is only by means of listening to the local people, addressing their concerns about the lack of role models, deprivation, education, etc., so one can better focus resources on trying to meet the challenge.
However, one has to remember that businesses too have their own problems in these difficult economic times and their resources (both financial and human) may be fully stretched.  Furthermore, many companies might already have their own chosen charities so cannot commit to supporting new projects.
A lively Q & A session followed, and  Robert Rosenthal referred to a recent book Whoops ! by John Lanchester, in which the blame for the financial crisis is attributed to bankers who took fees and commissions for themselves based on short term decisions and "financial engineering" . However the longer term consequences and ultimate financial losses then had to be met by the bulk of the ordinary taxpayers who had not benefitted or shared in the initial gains generated; they nevertheless had to bail out the banks because they were too big to fail – this was a more complex argument, but Stephen had no real answer to this charge! Nick Damji asked whether the financial fall-out from the Lehman Brothers collapse might have been less severe had the bank been saved – in retrospect, Stephen tended to agree.  Finally, Paul Olins asked Stephen whether he now felt more or less confident about the financial situation, but Stephen said that he was neither optimistic nor pessimistic and would sit on the fence because there were political as well as economic arguments!
Speaker - 8 March 2012
 Nick Damji introduced our speaker Ivo Varbanov.  Ivo had been an Ambassadorial Scholar in the 90s when he was at The Royal Academy of Music, where he became a renowned pianist.  Contact was lost until Nick saw him on the Tube. It turned out that, as well as being a concert pianist, Ivo was successfully running a vineyard in Bulgaria.  Ivo had bought some of his wine today for Fellows to sample.
 Ivo told us that after his studies at RAM he decided to stay here and had played at the Wigmore Hall and at the South Bank. He had grown up in Italy and loved wine, and in 2004 he invested in a small plot in Bulgaria and started a vineyard.  He began producing wine in 2008 and it was good.  He now works seven days a week as a pianist with the wine-making more of a hobby. Last week he was made President of the Bulgarian Association of Wine Producers.  He regarded producing wine as an art that goes with other arts.
In October last he gave 200 bottles of his wine to a Foundation that helps Bulgarian handicapped orphans into normal housing. They have placed 24 children in small units with tutors for them. His organisation is maintained by private sponsorship and costs about 100,000 Euros a year to run. He also became involved in 'Wine for Life' an Italian organisation that puts part of the profits of winemakers into a Foundation supporting  AIDs orphans in Africa.
Nick thanked Ivo for his very interesting talk and told us that Ivo was shortly having three concerts in London: Kings Place, Cadogan Hall and The Festival Hall with the Philharmonia.
Youth Speaks – 7 February 2012
John Bash reported to Fellows on the very successful Central Area Youth Speaks competition on Tuesday 7 February at the American School in London.  The Deputy Lord Mayor of Westminster, Councillor Louise Hyams, and DG Trevor Johnson were our guests.  The School's Headteacher, Coreen Hester welcomed us to her school, and told us how pleased she was to host the competition.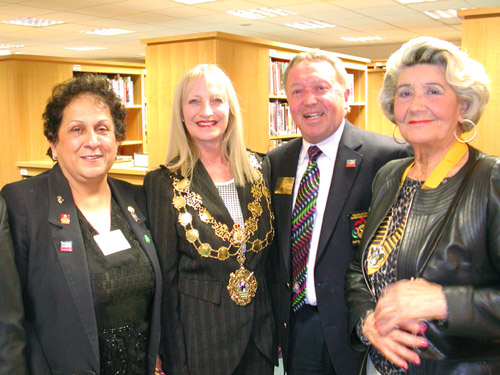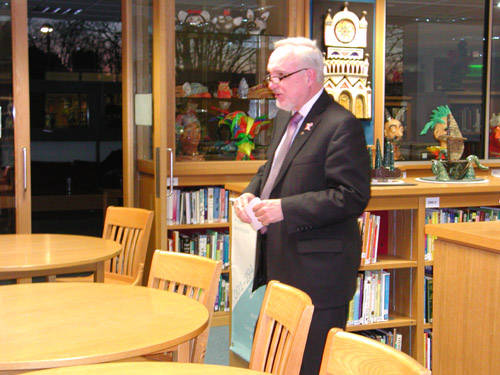 Kevin Coyne was our MC and he oversaw the proceedings with his usual good humour and efficiency.  There were 14 school teams of three taking part – seven Senior Teams and seven Intermediate Teams.  Each team comprised a Chairman, a Speaker and a Proposer of the Vote of Thanks.  They all showed a high standard of speaking on a wide variety of subjects, ranging from 'Man's Best Friend', which turned out to be about ecology, to 'The Sexualisation of Children's Clothing'. 
It was well attended by parents and Rotarians; nearly all the dozen or so 'officials', who played an important part in the event's success, were members of our Club  Prizes were given to the two winning teams and also for The Best Chairman, The Best Speaker and Best Proposer of the Vote of Thanks in each class. The winning teams came from The American School and The City of London School for Boys, and they will go on to the District Finals on Saturday 25 February at the City of London School for Boys.
David Sanderson and Barry Karsberg both led members' appreciation of John's efforts in organising this worthy competition.
Special thanks are also due to John Wilson, former teacher at the School, who for some years has been our liaison person.
More phots in Picture Gallery
 Young Chef Competition
John Bash one of Members organised a very successful Young Chef Central Area competition that took place on Tuesday 17 January at the Quinton Kynaston School.  There were eight girls and one boy taking part from four schools and the standard of cooking was high. We had three experienced judges – Gary Klaner, the Executive Chef of the Landmark Hotel, Luigi Vespero, a Chef from Galvins and Tom Gardner, a former hotelier.  The winner, Misty, and runner-up, Alice, who will go forward to the District Final on 11 February, both came from St Marylebone CE School.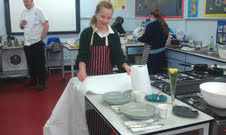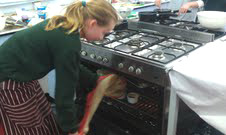 The winner - Misty
Other photos in the Picture Gallery
Carol Concert
On Wednesday 7 December the Club held our usual carol concert – this year in Montagu Square - where we heard the choir of a local school sing together with a small group of musicians. There had been mulled wine and mince pies.  This had raised some £300 for our charities.   
Christmas Lunch 8 December
The lunch was excellent as was the fellowship. President Mike told Fellows and guests that the wines on the tables had been given to us by the Sherlock Holmes Hotel.
Through a contact of Michael Tierney we were lucky to have Sherlock Holmes himself to act as auctioneer of a Club Clock that had been with us for many years. Kevin displayed it to its best advantage, but unfortunately bidding only reached £100 which was much less than the reserve. (The recession!).  It will be re-auctioned at a later date.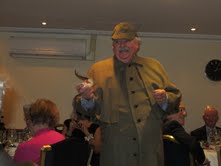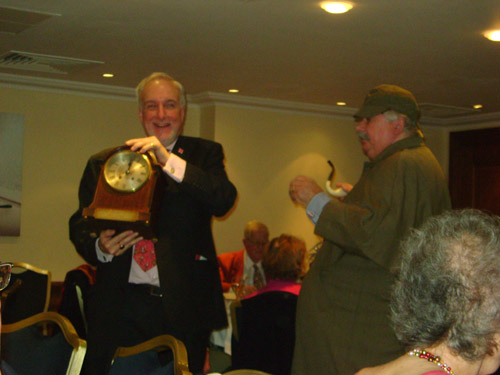 9. The Entertainment
This was provided by The Core Trust Players – the CoreKids Trust is one of our supported Charities.  There were four guitars and drums. They played and sung, very professionally, Pretty Woman, Blue Suede Shoes, Rock Around The Clock, Living Doll and White Christmas, and then after huge applause gave an encore – The Beatles' song So Here it is Merry Christmas.
Dancing also took place!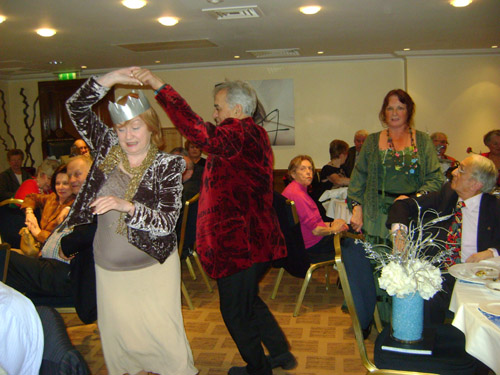 Matthew Lawson, on behalf of the Club, thanked the Players for a wonderful performance.  This was in fact their premiere as a group, and Matthew pointed out that when they win the X Factor we will be able to say we were there at the start.

Matthew Lawson, on behalf of the Club, thanked the Players for a wonderful performance.  This was in fact their premiere as a group, and Matthew pointed out that when they win the X Factor we will be able to say we were there at the start.
Margaret Pollock introduced  an unusual Sergeant at Arms in the person of Father Christmas. With a cheery "Ho, Ho, Ho", he persuaded all and sundry to part with their spare cash. This will go towards providing wheelchairs for the paralympics. Unfortunately he had to leave as Margaret received a text from the City Council that the sleigh and reindeers parked outside the hotel were about to get a ticket!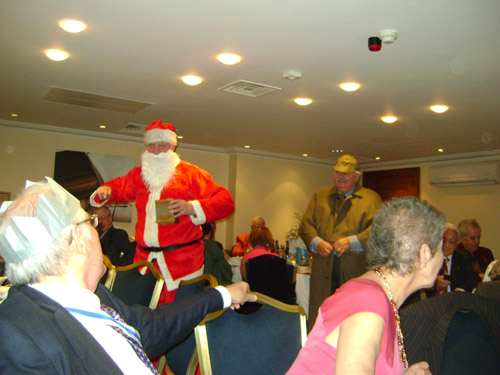 S